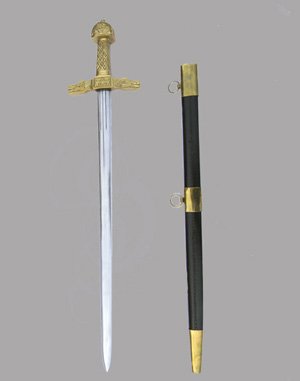 Roman Empire Sword
Charlemagnes Roman Empire Sword
| | |
| --- | --- |
| • | Decorative Hilt and Handle |
| • | Scabbard Included |
| • | 36 Inches Overall, 28 Inch Blade |
| • | Fantastic Craftsmanship -- Strongblade Exclusive |
This Strongblade exclusive is a work of art. Designed by Strongblade's lead weapon architect, Alejandro Calas, this Charlemagne Sword is truly one of the coolest Roman swords we sell.

This piece features a gorgeous, slightly exaggerated desinged handle. The dramatic curves on the hand-crafted blade lend this sword a much more dramatic (and downright frightening) appearance. But don't just take our word for how fierce this thing looks. Print out one of the photos of it and hide in a relative's or friend's closet. When your victim enters the room, jump out and scream with the picture held out in front of you. I guarantee the person will scream and jump at least a foot in the air.



A custom-made scabbard of polished hardwood with brass accents is included with this sword.
Charlemagne, also known as Charles the Great was known by several titles during his war career: King of the Franks, Emperor of the Romans, Carolus Imperator Augustus. In his political career, he oversaw the massive reforms that created the Carolingian Renaissance. As well as his political contributions, he was known as a fierce warrior, overseeing a massive empire spanning much of Europe. Grooved and adorned with a gold handle, the Charlemagne is a sword that echoes the grand nature of old war heroes. The large gold hilt shows a phoenix in the middle of the handle along with great detail on the handle. The blade is strong and grooved down the middle, and showcases a grandiose level of detail. With a gold-plated scabbard with rings for easy attachment to belts, the Charlemagne is a sword with great history, great appearance, and showcases a warrior with much to be honored for.

Curious about the
Assasin's Creed
? Ever wonder about the origin of the word '
Assassin
'? Well, lots of other people have. There's a big dispute about the actual etymology of the word, but one well-accepted theory is that it stems from the word hashish. As in, stick-some-in-my-hooka-and-smoke-it hashish. Apparently the assassins of the Middle East used to partake in the "kind bud" to soothe their nerves before eliminating a target. If you play
Assassin's Creed
, or if you just admire the artwork, then you should probably know that
Strongblade
carries plenty of gear from the game.
Keywords: Sword, Roman Sword, Gold, Grooved, Charlemagne