Free Shipping on Orders more than $150! (Continental U.S. Only)
Expedited Shipping Available! Call or E-mail us at service@strongblade.com
Knight Protector Arming Sword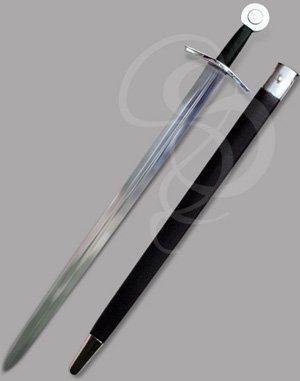 Medieval Knight Protector's Arming Sword
Model No.
Price
Availability*
Description
Accessories
---
* Stock items ship from Strongblade in 1-3 days. Please allow an additonal day for engraving or sharpening.
Product Description
A knight's sword was his most valued possession. Passed down from generation to generation, symbolizing his authority, devoutness, strength, and overall bad-assed-ness.

This is a gorgeous reproduction of a medieval arming sword. The blade is made from a powerful high-carbon steel that is polished to a mirror sheen and available in tempered (for purists) or non-tempered (for display). A long, graceful fuller runs almost the entire length of the blade, giving the sword additional strength and lightness.

A hardwood grip, wrapped with padded black leather makes this sword comfortable to hold and stylishly dark. Overall, this is a perfect sword for the defender (and bad-ass) in all of us.


Product Details
Weight:
3.6 lbs.
Material of
Construction:
Blade: High Carbon Steel
Pommel and guard: Nickled Steel
Grip: Leather-wrapped wood

The sword is shipped with an unsharpened blade, but the blade may be sharpened.
Includes leather-wrapped wood scabbard with chromed steel throat and tip.
39.5 INCHES OVERALL 32 INCH BLADE LENGTH
Images of This Product from Our Engraving Gallery
Visit our Engraving Gallery to see more examples of our custom engravings.
Average rating
Product reviews
Displaying reviews 1 - 10
Pages: