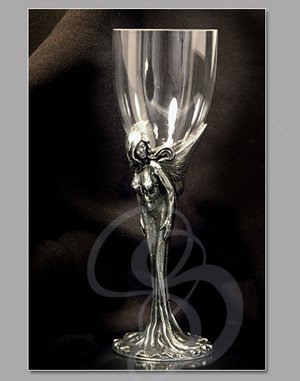 Fairy of the Lake Goblet
Fantasy Goblet: Fairy of the Lake in Pewter and Glass
| | |
| --- | --- |
| • | Beautifully Crafted in England |
| • | Delicate Pewter Artistry and Quality Glass |
| • | Wonderfully Imaginative and well designed |
This truly elegant pewter-stemmed glass depicts the Fairy of the Lake; The romantic-Medieval guardian-spirit of Arthur, Guinevere and Tristram, who guards them against the sorceress Rowenna.

The stem and base of this gorgeous glass is made from fine English pewter, crafted by the masters at Alchemy Gothic. Their version of the Fairy of the Lake faces out from the cup, with her wings gracefully enveloping the glass.

This is a stunning piece for that glass cabinet in your living room that you've been wanting to fill. Also makes an absolutely fantastic fantasy gift.
MaterialMade from English Pewter and Glass. Created in England by Alchemy Gothic.
Sorry, no history available for this item at this time.

Anne Bonny was probably the most famous female pirate in history. Her famous words to fellow pirate Jack Rackham (who hid in a hold on his ship when his ship was boarded) immediately before he was hanged as a pirate? "I'm sorry to see you here, Jack, but if you had fought like a man you needn't hang like a dog".
Strongblade
has plenty of
pirate swords
,
pirate flintlocks
, and
pirate accessories
. So pick some up and fight like a man (or woman).
Keywords: goblet, chalice, glass, fairy of the lake, alchemy gothic, fantasy, drinkware, pewter, glass, cup, tumbler, nymph, dryad, wings