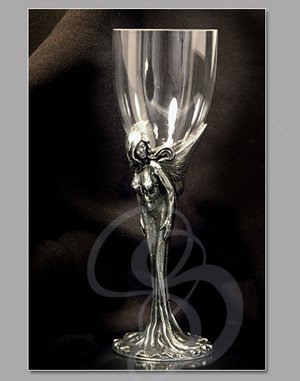 Fairy of the Lake Goblet
Fantasy Goblet: Fairy of the Lake in Pewter and Glass
| | |
| --- | --- |
| • | Beautifully Crafted in England |
| • | Delicate Pewter Artistry and Quality Glass |
| • | Wonderfully Imaginative and well designed |
This truly elegant pewter-stemmed glass depicts the Fairy of the Lake; The romantic-Medieval guardian-spirit of Arthur, Guinevere and Tristram, who guards them against the sorceress Rowenna.

The stem and base of this gorgeous glass is made from fine English pewter, crafted by the masters at Alchemy Gothic. Their version of the Fairy of the Lake faces out from the cup, with her wings gracefully enveloping the glass.

This is a stunning piece for that glass cabinet in your living room that you've been wanting to fill. Also makes an absolutely fantastic fantasy gift.
MaterialMade from English Pewter and Glass. Created in England by Alchemy Gothic.
Sorry, no history available for this item at this time.

The
flintlock pistol
was the greatest advance in
pirating
since the wooden leg. The concept was fairly simple: gunpowder was stuffed into the barrel. A lead ball, usually wrapped in some sort of fabric, was stuffed in. A hammer was then pulled back half-way and left that way until the gun was ready to fire. The pistol technically was not meant to fire in this position, although sometimes they were known to go off half-cocked (and yes, that is the origin of that expression). When the gun was ready to be fired, the hammer was pulled back all the way and the trigger was squeezed. If you're feeling flinty, go check out the
Strongblade
selection of
flintlock pistols
,
blunderbuss pistols
and
flintlock rifles
.
Keywords: goblet, chalice, glass, fairy of the lake, alchemy gothic, fantasy, drinkware, pewter, glass, cup, tumbler, nymph, dryad, wings