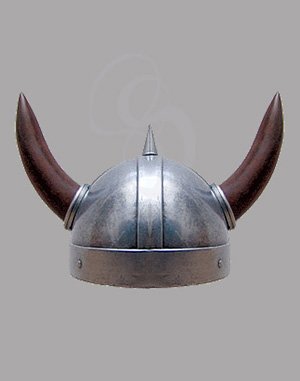 Viking Helmet with Horns
Viking Helmet with Horns
| | |
| --- | --- |
| • | Viking Helmet with Horns |
| • | 9th Century Helmet |
| • | Modeled After Historically Accurate Spectacle Helmets |
Once more, for those not listening in the back of the room, Vikings as a general rule, did wear helmets with horns on them. Horns may well have been worn for ceremonial occasions, but wearing horns in battle is really tricky for many reasons but the vikings could do anything and certainly horns were super cool!

This Authentic Styled Viking Helmet was typical for use by a Viking Warrior. This replica features a full metal helmet with a spike and plastic horns.

**Please note: This helmet does not have a leather liner.
Some Monks in England were walking around on their Island at Lindisfarne more than 1,000 years ago, doing monk-type things (chanting and slamming books into their foreheads, I beleive) when some strange ships were spotted in the distance.

The monks and many of the island residents wandered to the shore to greet the strangers. I can only imagine that they were smiling and waving to their new, heavily armored friends. Their new friends smiled back. And they waved, although it was battle axes and swords, not hands.

This was the first recorded encounter between the English and the Vikings, and it didn't involve trading beads and planting corn, mind you. Most of the residents of the Holy Island were slaughtered and everything of value was looted. The Vikings made it very clear from the start that they weren't interested in a happy, warm-and-fuzzy, symbiotic, "let's grow together" type of relationship.

Things didn't get easier for the English after that. Or for the rest of the world for that matter. The Vikings went on a three hundred year shopping spree in the home towns of their enemies, burning, looting and raping (in the early years, the Vikings did it in that order, which proved a little rough for them. The chronology was reversed after a few bad outings, though).



The Japanese
katana
was often worn paired with another smaller sword or dagger. The shorter sword, called a wazashi (also known alternately as
Wakizashi
and, occasionally, Fred) measured twelve to twenty-four inches in length. The dagger, a tanto measured six to twelve inches in length. Tonto, from the Lone Ranger, has nothing to do with
Asian weapons
, but for the record, he was 67 inches long.
Strongblade
sells lots of
katanas
. Have a look at our
samurai swords
.
Keywords: Viking Helmet with Horns norse authentic historical beowulf