Free Shipping on Orders more than $150! (Continental U.S. Only)
Expedited Shipping Available! Call or E-mail us at service@strongblade.com
Pirate Pistol, Blunderbuss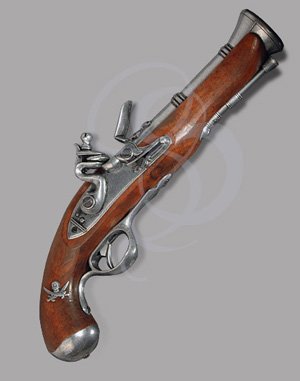 Pirate's Blunderbuss Flinlock Pistol
Beautifully Crafted Flintlock Reproduction from Spain
Features Pirate Skull and Crossbones on Stock
Working Trigger and Striking Mechanism
Large, Intimidating Blunderbuss Barrel
Intricately Carved and Embosssed Steel Casings

Models on Sale
Model No.
Price
Availability
Description
---
* Stock items ship from Strongblade in 1-3 days. Please allow an additonal day for engraving or sharpening.
We all know that pirates and flintlocks go together like sharks and teeth. We equally know that some pirates would fly the Jolly Roger flag, featuring a skull and crossbones to let victim ships know that they would give no quarter. Well, Feast your eyes (and hands) on the perfect combination of those two pirate staples.

This replica pirate flintlock reproduction is similar to ones found in the 17th and 18th centuries. It is a slim, efficient killing weapon (though non-firing), with fully working locks and trigger. A simulated redwood stock has the perfect combination of grain and grittiness. This differs from our SBC-PIRATEFLINTLOCK in that it has a huge, intimidating blunderbuss barell. These types of barells were particularly adapted to ship-based combat, where loading flintlock pistols was about as easy as performing a vasectomy on yourself while riding a rollercoaster. (see the "History" tab below for more info on Blunderbuss pistols)

Engraved steel lock plates on the front and back tell a little about the history of this weapon. The words "Manufatures Se Snt. Etienne" reveal that the original weapon was built in France, at the St. Etienne Aresenal. This manufacturer was a very popular flintlock maker in the late 17th century and early 18th century. It continued to make weapons long into the 20th century, designing several guns that were used in World War I. On the rear side of the pistol are the numbers "206." Here ate Strongblade, we pride ourselves on always telling the truth, so here we go: We have no idea what those numbers mean. If anyone knows, feel free to drop us a line.

If you're looking for an addition to your pirate costume, you can't get much better than this weapon.


Overall Length: 13 7/8"
Weight: 1lb 4oz
Barrell Length: 7 3/8"

Materials: Simulated redwood stock. Pewter or Brass barell, pewter locks and trigger.






Average rating
Product reviews
Blunderbuss Pistols

Blunderbuss Barrels are much wider than standard gun barrels. These types of barrels were designed this way for two reasons; First, the wider mouth made it easier to load the gun in a hurry (try loading a standard flintlock in a hurry -- perhaps with a screaming ensign from the Royal Navy charging you with saber drawn – and you'd no doubt start longing for a little wide-mouth love from your firearm). Second, the wider barrel allowed multiple projectiles to be shot from the gun, thereby increasing your threat radius. A gun firing several lead shots or a peppering of lead could take out several opponents with one blast, which proved useful in crowd control situations, or on board a ship where many opponents would be crowded in a small area.

These types of barrels were also a good choice for stagecoach guards, who might end up defending their charges against may opponents. In such a situation, the guard might not have the time to get off more than one shot, in which case one shot that took out several attackers would, obviously, be a little more cheery than the alternative.

The killing power of the blunderbuss could be a devastating thing, but what it added in deadliness it lost in accuracy. The wider mouth tended to spray out its payload in a less-than-straight line, making for occasional and awkward Pulp Fiction-style complete misses of opponents. The gun was most effective at close range, against several opponents. At greater ranges, the gun was much less effective than its narrow-barreled cousins. Flintlocks
The flintlock pistol was the greatest advance in pirating since the wooden leg. Developed in the 1600s, these pistols revolutionized ship-to-ship combat (and on-land raiding). The concept was fairly simple: gunpowder was stuffed into the barrel. A lead ball, usually wrapped in some sort of fabric, was stuffed in. A metal rod (normally embedded in the bottom of the gun's barrel) was removed and used to jam the ball and powder as far back as possible, and as close as possible. A hammer (sometimes called a cock [insert giggles here]) was then pulled back half-way and left that way until the gun was ready to fire. The pistol technically was not meant to fire in this position, although sometimes they were known to go off half-cocked (and yes, that is the origin of that expression). When the gun was ready to be fired, the hammer (or cock, hehehehe) was pulled back all the way and the trigger was squeezed. A the top of the hammer, a piece of flint was held in place by a vice. When the trigger was squeezed, the hammer was released and the flint struck a metal plate known as a frizzen. A spark would be created, which would light the powder in the barrel, which in turn would make a satisfying "boom" sound. A by-product of this "boom" was the ejection of the lead ball from the barrel at a high rate of speed. Flintlock owners had to be careful that the barrel was not facing anyone when they created their "boom" sound or injury or death could result.

Moisture or water was one of the greatest threats to flintlock pistols. Wet powder would not light when sparked, so the flintlock owner would neither get the satisfying "boom" nor the lethal projectile flying from their barrel. Instead, this would often mean that they, themselves, would be the target of an opponent's satisfying boom and resultant projectile. That, or a sword through the esophagus.


Strongblade Cutlets
100% Cuts of Useful Information
Curious about the
Assasin's Creed
? Ever wonder about the origin of the word '
Assassin
'? Well, lots of other people have. There's a big dispute about the actual etymology of the word, but one well-accepted theory is that it stems from the word hashish. As in, stick-some-in-my-hooka-and-smoke-it hashish. Apparently the assassins of the Middle East used to partake in the "kind bud" to soothe their nerves before eliminating a target. If you play
Assassin's Creed
, or if you just admire the artwork, then you should probably know that
Strongblade
carries plenty of gear from the game.
Keywords: Pirate, Blunderbuss, pistol, boarding, flintlock, captain Morgan, blackbeard, jack sparrow, caribbean, carribean, gun