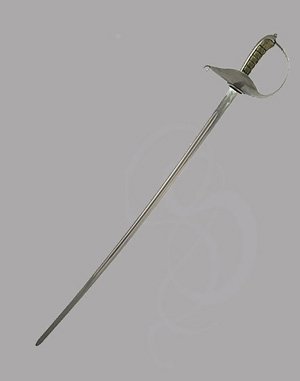 Hutton Sabre
Hutton Sabre - Military Sabre
| | |
| --- | --- |
| • | Deuling Sabre |
| • | High-Carbon Flex-Tempered Blade |
| • | True Military Sabre Style |
The blade and hilt of the "Hutton" sabre imitate the style of the true military sabre to provide a more realistic military training sword. The blade is somewhat shortened and lightened, with a rounded tip for effective training, and exhibits a somewhat greater flexibility than the live military sword.
One of the rapidly growing arts within historical fencing societies is that of sabre fencing in the late 19th century Italian style, originating with fencing masters who were employed to train mounted troops in the effective use of the military sabre. The Milanese fencing master Guiseppe Radaelli, is credited with starting the development of this style, while Salvatore Pecoraro introduced changes and refinements which resulted in the technique finally adopted for sabre at the Military Masters School in Rome. The hilt designs developed by Radaelli and Pecoraro have been reproduced in our fencing sabers, with stainless steel guards and wire-wrapped sharkskin-pattern grips. The high-carbon flex-tempered steel blades closely follow the proportions of the period and are button-tipped for safety. The blade and hilt of the "Hutton" sabre are closer to the style of the true military sabre.
Overall: 37 1/4 Inch
Blade Length: 31 Inch
Handle Length: 6 Inch
Weight: 1lb 6oz

Anne Bonny was probably the most famous female pirate in history. Her famous words to fellow pirate Jack Rackham (who hid in a hold on his ship when his ship was boarded) immediately before he was hanged as a pirate? "I'm sorry to see you here, Jack, but if you had fought like a man you needn't hang like a dog".
Strongblade
has plenty of
pirate swords
,
pirate flintlocks
, and
pirate accessories
. So pick some up and fight like a man (or woman).
Keywords: Hutton Sabre