Free Shipping on Orders more than $200! (Continental U.S. Only)
Expedited Shipping Available! Call or E-mail us at service@strongblade.com
Imperial Battle Arming Sword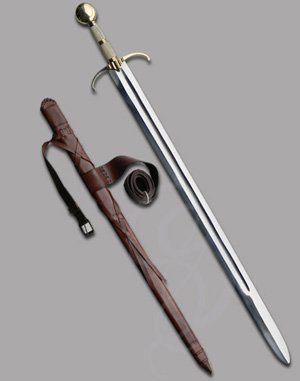 Tempered Medieval Arming Sword
Hand-Crafted
EN45 High-Carbon Spring Steel Blade
Tempered Blade with Full Tang
Comes with Beautiful Leather-Wrapped Wooden Scabbard
Scabbard Includes Sword Hanger
31 Inch Blade and 37 Inch Overall Length

Models on Sale
Model No.
Price
Availability*
Description
---
* Stock items ship from Strongblade in 1-3 days. Please allow an additonal day for engraving or sharpening.
Product Description
This is a beautifully decorated arming sword. In honor of the battle between King Louis and the Netherlands in 1479, this sword came to be known as the Guingate.

The blade is hand-crafted from EN45 high-carbon steel, with pommel and cross of durable brass. The sword features a bone grip. The grip is beautifully decorated with a triple brass ring in the center and also on the connection to the guard. and decorative high quality leather wrapped on wood scabbard.

The grip on this sword is 4 inches long and 3/4 inch in diameter which is ideally suited for people with small to medium size hands.

This sword is no longer supplied with the hanger scabbard as shown in the picture. It does include a high quality leather wrapped wooden scabbard.
Product Details
Overall Length:
37 inches
Blade Length:
31 inches
Blade Width:
1.75 inches
Hilt Width:
5.75 inches
Weight:
2.4 lbs.
Material of
Construction:
EN45 High Carbon Steel
Includes leather-wrapped wooden sheath
Average rating
Product reviews