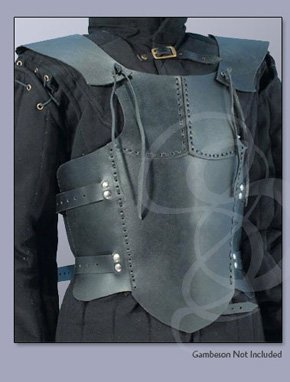 Footman's Leather Armor Vest
Adjustable Leather Armor Vest - Small Size
| | |
| --- | --- |
| • | Economical Leather Armor |
| • | Lightweight and Comfortable |
| • | Straps or Lacing Around Waist, Ribs and Shoulders |
| • | Available in Brown or Black |
| • | Front and Back Vests are Joined by Belts |
Tired of getting thumped in the shoulder by that sweaty Scottish guy who has it out for you? Had enough bruising on your chest after a day of LARPing or sparring? Then it's time to get rid of that pizza box under your shirt and upgrade to some real leather armor.

This high quality leather vest is a perfect accessory for LARP or costume use. It has straps around the waist and sides and laces around the shoulders for a perfect fit. The metal hardware has been chromed for extra rust protection. It is available in both brown and black. We currently only offer this is small sizes.

See the specs for size measurements..

SIZE MEASUREMENTS

Length(measured from shoulder down): 19 inches

Chest Size: Adjustable 28 to 37 inches

The amour has a full front and back plate with attached shoulders.
It is crafted from 7/8 oz leather, which is a medium weight so it is not heavy at all.

Did you know that
Strongblade
sells
tempered swords
and
non-tempered swords
? The tempered swords are heat treated to have a harder surface yet retain a more elastic inner core than non-tempered swords. This means they hold a better edge when sharpened and are less likely to permanently deform or bend.
Keywords: armor amour leather vest adjustable children kids larp sca costume