Free Shipping on Orders more than $150! (Continental U.S. Only)
Expedited Shipping Available! Call or E-mail us at service@strongblade.com
Footman's Leather Armor Vest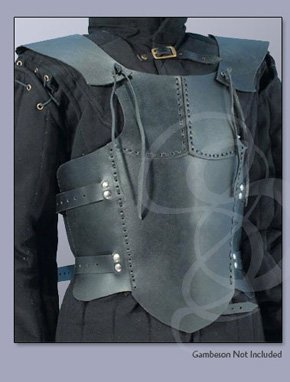 Adjustable Leather Armor Vest - Small Size
Economical Leather Armor
Lightweight and Comfortable
Straps or Lacing Around Waist, Ribs and Shoulders
Available in Brown or Black
Front and Back Vests are Joined by Belts
Model No.
Price
Availability
Description
---
* Stock items ship from Strongblade in 1-3 days. Please allow an additonal day for engraving or sharpening.
Tired of getting thumped in the shoulder by that sweaty Scottish guy who has it out for you? Had enough bruising on your chest after a day of LARPing or sparring? Then it's time to get rid of that pizza box under your shirt and upgrade to some real leather armor.

This high quality leather vest is a perfect accessory for LARP or costume use. It has straps around the waist and sides and laces around the shoulders for a perfect fit. The metal hardware has been chromed for extra rust protection. It is available in both brown and black. We currently only offer this is small sizes.

See the specs for size measurements..

SIZE MEASUREMENTS

Length(measured from shoulder down): 19 inches

Chest Size: Adjustable 28 to 37 inches

The amour has a full front and back plate with attached shoulders.
It is crafted from 7/8 oz leather, which is a medium weight so it is not heavy at all.
Average rating
Product reviews
Strongblade Cutlets
100% Cuts of Useful Information
Did you know that
Greek Hoplite
soldiers placed their best fighters in the front and back of their formations? The ones in the front were placed there to meet their enemies first and hopefully drive them backward. The ones in the rear were there to make sure none of their fellow soldiers decided to break formation and run.
Strongblade
has a large selection of
Greek swords
,
Greek Weapons
and
Greek Armor
.
Keywords: armor amour leather vest adjustable children kids larp sca costume