Free Shipping on Orders more than $150! (Continental U.S. Only)
Expedited Shipping Available! Call or E-mail us at service@strongblade.com
Little John Leather Gambeson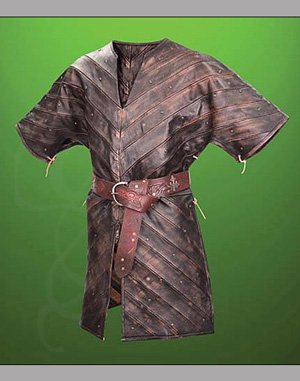 Little John Leather Gambeson
Officially licensed leather gambeson worn by Little John in the Universal Pictures' epic action-adventure film Robin Hood
Distressed leather with metal studs
Lace up sides & sleeves
Coming Summer 2010
Model No.
Price
Availability
Description
---
* Stock items ship from Strongblade in 1-3 days. Please allow an additonal day for engraving or sharpening.
This is the officially licensed replica of the leather gambeson worn by Little John in the epic action-adventure motion picture Robin Hood from Universal Pictures and director Ridley Scott. This 100% leather gambeson has a distressed finish with decorative metal studs. The sleeves and sides lace for a secure fit. Available in S/M and L/XL. The belt is sold separately.


The legendary figure known by generations as Robin Hood has endured in popular mythology and ignited the imagination of those who share his spirit of adventure and righteousness. In the all new action-adventure epic from Universal Pictures, Robin and his band of marauders confront corruption in a local village and lead an uprising against the crown that will forever alter the balance of world power.

Robin Hood chronicles the life of an expert archer, previously interested only in self-preservation, from his service in King Richardís army against the French. Upon Richardís death, Robin travels to Nottingham, a town suffering from the corruption of a despotic sheriff and crippling taxation, where he falls for the spirited widow Lady Marian, a woman skeptical of the identity and motivations of this crusader from the forest. Hoping to earn the hand of Maid Marian and salvage the village, Robin assembles a gang whose lethal mercenary skills are matched only by its appetite for life. Together, they begin preying on the indulgent upper class to correct injustices under the sheriff.
Strongblade Cutlets
100% Cuts of Useful Information
The
Spartans
were reknowned for their ferocity and for their military strength and skill. Of the Greek city-states, the Spartans were one of the few who actually had a standing army with professional soldiers. (Most of the other city-states had sitting armies who would rarely stand at all. Okay, just jokes). The Spartans carried
Spartan Spears
in one hand and
Spartan Shields
in the other. They wore
Spartan Helmets
and
Spartan Greaves
, and bore
Spartan swords
at their sides. Coincidentally,
Strongblade
sells all of these.
Keywords: Little John Leather Gambeson