Free Shipping on Orders more than $200! (Continental U.S. Only)
Expedited Shipping Available! Call or E-mail us at service@strongblade.com
Prince of Darkness Latex Mask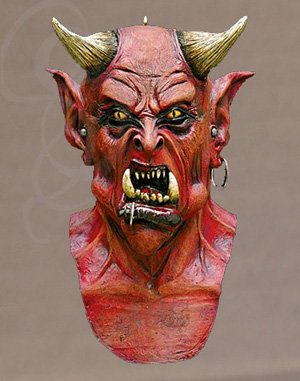 Mask and Makeup Kit with Adhesive
Full Prince of Darkness Mask
Latex Maxk
Realistic and Downright Creepy
Model No.
Price
Availability*
Description
---
* Stock items ship from Strongblade in 1-3 days. Please allow an additonal day for engraving or sharpening.
Product Description
The horns on this Prince of Darkness mask are approx. 10 cm long.
If you lived in Hell, you'd look mean and angry too! You'll recognize this angry fella by his red skin and horns and snarling expression anywhere: the smallest wrinkles and deepest furrows are modeled in detail.
His protruding pointed canines and lower teeth make the Price of Darkness's lower lip the perfect place for a metal piercing. Our Prince of Darkness has a metal ring in his ear to match the one in his lip, and his large chest rounds out the leathery, red picture. The eye slits are below the enraged eyes, and the mask also has nose and ear holes. This Prince of Darkness latex mask is as representative as it is decorative!
Average rating
Product reviews