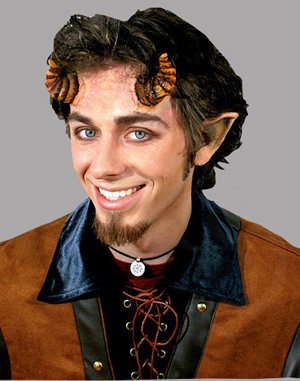 Stayr Latex Ears
Stayr Latex Ears
| | |
| --- | --- |
| • | Yes, they are Satyr Ears |
| • | Comes with Safe Adhesive to Mount over Your Ears |
| • | Officially Sanctioned by the Satyr Ear Federation |
| • | Look Fantastically Satyry and Elegant |
If you're reading this, then you are still having some problems understanding what these are. They are Satyr ears. You put them over your ears with the included safe adhesive. Then you walk around looking like a Satyr(or at least a person who has put on Satyr ears). They're made from latex or some such material and look like Satyr ears. An officially licensed product of the Satyr Ear Federation.


They are Satyr Ears. Find an satyr and measure his or her ear. That will be fairly accurate. Except that these ones are made from latex.



The Japanese
katana
was often worn paired with another smaller sword or dagger. The shorter sword, called a wazashi (also known alternately as
Wakizashi
and, occasionally, Fred) measured twelve to twenty-four inches in length. The dagger, a tanto measured six to twelve inches in length. Tonto, from the Lone Ranger, has nothing to do with
Asian weapons
, but for the record, he was 67 inches long.
Strongblade
sells lots of
katanas
. Have a look at our
samurai swords
.
Keywords: Satyr, Ears, Costume, Fake, false, bulbous, adhesive