Free Shipping on Orders more than $200! (Continental U.S. Only)
Expedited Shipping Available! Call or E-mail us at service@strongblade.com
Immortal Swords from 300, the Movie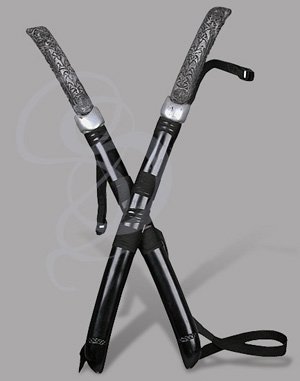 Licensed Persian Immortal Sword Set from 300
Hand-Forged from Historically Accurate Iron
Hard, Laquered Sheaths
Elaborately Carved Grips
Adjustable Straps Make Swords Wearable Out of Box
Limited Edition with Certificate of Authenticity

Models on Sale
Model No.
Price
Availability*
Description
---
* Stock items ship from Strongblade in 1-3 days. Please allow an additonal day for engraving or sharpening.
Product Description
Okay, so the Persian Immortals didn't really fight with swords. Frank Miller didn't care. He threw a pair of kick-ass swords on the backs of his immortals in the graphic novel 300, and followed suit in his movie. And they look great!

Technically speaking, the Immortals fought with short spears, bows, and daggers (or a short sword). All this is just scholarly musing though. The Immortals in Miller's 300 movie wear a pair of swords on their back, and if you're looking at this product then you're most likely after the swords worn by his Immortals.

This beautiful, Limited Edition set of two swords is hand crafed with astonishing precision and detail. They were painstakingly created to look exactly like the ones worn by the Immortals in the movie. From the elaborately carved grip, to the laquered hard-shell scabbards, these swords are exact replicas of the movie props.

The swords themselves are hand-crafted from iron, much as they would have been made back in 480 B.C. (the date the Battle of Thermopylae took place, for those of you who didn't write a thesis on "Ancient Greek Warfare and How it Influenced 21st Century Merchandising"). Fabric straps ring the scabbards and allow both swords to be worn on the back (everyone sing along now, you know the words by now...) just like the ones worn by the Immortals in the movie.

These swords are of course officially licensed. They come with a certificate of authenticity and a Persian-to-Greek Dictionary. Oh wait, jus remembered, the dictionary is sold out. Sorry.


Product Details
total length : 31.5 INCHES
blade length, : 22 INCHES
handle length : 9 1/4 INCHES
handle material: cast steel
blade material: carbon steel
Average rating
Product reviews