Free Shipping on Orders more than $150! (Continental U.S. Only)
Expedited Shipping Available! Call or E-mail us at service@strongblade.com
Versa Mount Scabbard Mount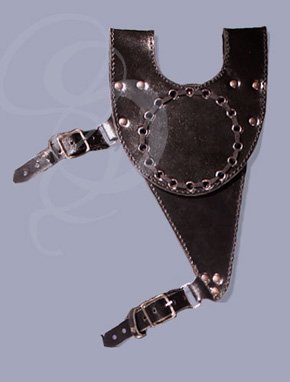 Adjustable Scabbard Mount
Adjusts to any mounting angle
Made of Durable Leather
Atrractive
Provides More Stability than Tranditional Mounts
Works with most scabbards
Model No.
Price
Availability
Description
---
* Stock items ship from Strongblade in 1-3 days. Please allow an additonal day for engraving or sharpening.
The Versa Mount is a attractive, durable, innovative means of mounting your sword scabbard to your belt. The Versa Mount is available in both a right-hand and left-hand versions. The Versa Mount allows you to position the sword scabbard at any angle. The Versa Mount consists of two parts, an upper portion which connects to your belt and a lower portion which connects to your scabbard(see pictureat left). Both parts contain a circular pattern of metal eyelets. To adjust the angle of the scabbard just overlay the two halves at the desired angle and secure the two halves together by lacing through the eyelets with the included laces. It is no more difficult than lacing a shoe.
This mount is not only flexible but it provides for more stability than a traditional mounts. Traditional mounts often include a series of straps from which the scabbard hangs. The straps allow the scabbard to swing as you move. The Versa Mount minimizes that swing. This provides for a quicker sword draw and is also more comfortable to wear.

The Versa Mount is specifically designed to work with the SPBT series scabbards for foam swords but it will work with most scabbards for foam or steel swords.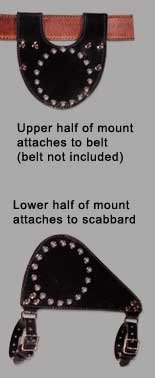 Strongblade Cutlets
100% Cuts of Useful Information
Although the term
rapier
has become synonymous with any narrow-bladed
sword
(particularly those with fancy hilts), the term
rapier
actually applied to only a select few types of
swords
. Rapiers were narrow (usually one and a quarter inches wide), quite long, fairly heavy, and usually had only a slight edge on them. The extremely long length of the rapiers made them a bit heavy and cumbersome, not at all the Errol Flynn or Zorro-type small-
swords
that most people think of.
Keywords: Adjustable Scabbard Mount