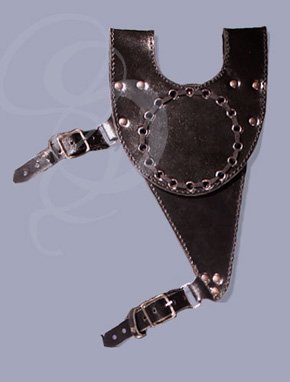 Versa Mount Scabbard Mount
Adjustable Scabbard Mount
| | |
| --- | --- |
| • | Adjusts to any mounting angle |
| • | Made of Durable Leather |
| • | Atrractive |
| • | Provides More Stability than Tranditional Mounts |
| • | Works with most scabbards |
The Versa Mount is a attractive, durable, innovative means of mounting your sword scabbard to your belt. The Versa Mount is available in both a right-hand and left-hand versions. The Versa Mount allows you to position the sword scabbard at any angle. The Versa Mount consists of two parts, an upper portion which connects to your belt and a lower portion which connects to your scabbard(see pictureat left). Both parts contain a circular pattern of metal eyelets. To adjust the angle of the scabbard just overlay the two halves at the desired angle and secure the two halves together by lacing through the eyelets with the included laces. It is no more difficult than lacing a shoe.
This mount is not only flexible but it provides for more stability than a traditional mounts. Traditional mounts often include a series of straps from which the scabbard hangs. The straps allow the scabbard to swing as you move. The Versa Mount minimizes that swing. This provides for a quicker sword draw and is also more comfortable to wear.

The Versa Mount is specifically designed to work with the SPBT series scabbards for foam swords but it will work with most scabbards for foam or steel swords.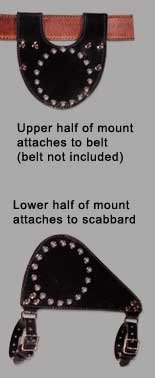 Did you know that
Strongblade
sells
tempered swords
and
non-tempered swords
? The tempered swords are heat treated to have a harder surface yet retain a more elastic inner core than non-tempered swords. This means they hold a better edge when sharpened and are less likely to permanently deform or bend.
Keywords: Adjustable Scabbard Mount