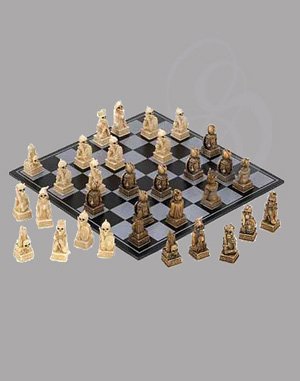 Skull Warrior Chess Set
Skull Warrior Chess Set
| | |
| --- | --- |
| • | Skeletal Warrior Pieces |
| • | Marvelous Miniature Chess Set |
| • | Polyresin and Wood |
Legions of undead souls face off for a ghostly battle; will good or evil prevail? This marvelous miniature chess set features chilling skeletal warrior pieces for a game no one's likely to ever forget. Scaled-down board is perfect for small surfaces, or a fantastic travel take-along. Weight 2.2 lbs. Polyresin, Wood.
12" x 12" x 2 3/4" high.
12" x 12" x 2 3/4" high.

Although the term
rapier
has become synonymous with any narrow-bladed
sword
(particularly those with fancy hilts), the term
rapier
actually applied to only a select few types of
swords
. Rapiers were narrow (usually one and a quarter inches wide), quite long, fairly heavy, and usually had only a slight edge on them. The extremely long length of the rapiers made them a bit heavy and cumbersome, not at all the Errol Flynn or Zorro-type small-
swords
that most people think of.
Keywords: Skull Warrior Chess Set