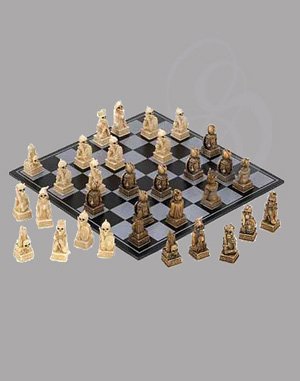 Skull Warrior Chess Set
Skull Warrior Chess Set
| | |
| --- | --- |
| • | Skeletal Warrior Pieces |
| • | Marvelous Miniature Chess Set |
| • | Polyresin and Wood |
Legions of undead souls face off for a ghostly battle; will good or evil prevail? This marvelous miniature chess set features chilling skeletal warrior pieces for a game no one's likely to ever forget. Scaled-down board is perfect for small surfaces, or a fantastic travel take-along. Weight 2.2 lbs. Polyresin, Wood.
12" x 12" x 2 3/4" high.
12" x 12" x 2 3/4" high.

When Strongblade refers to a "
Battle Sword
," we are referring to most European medieval
swords
with blades longer than 35" or so. These type of swords included
hand-and-a-half swords
(sometimes refered to as
Bastard Swords
) and the big
two-handed swords
. Real battle
swords
had blades well in excess of this, and, in fact, a 35" sword was considered a bit skimpy for fighting skirmishes. But for home use and light sparring, a 36" blade is fairly long.
Keywords: Skull Warrior Chess Set