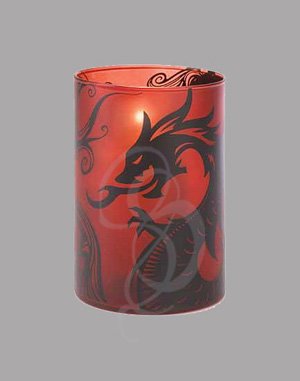 Dragoncrest Candle Holder
Dragoncrest Candle Holder
| | |
| --- | --- |
| • | Casts a Facinating Play of Light |
| • | Striking Dragon Design |
| • | Glass |
Add a wild edge to any decor with this tattoo-graphic candle lantern! Strikingly stylized dragon pattern casts a fascinating play of light and shadow and flickering flame. Weight 1 lb. Candle not included. Glass.
4 3/4" x 4 3/4" x 7" high.
4 3/4" x 4 3/4" x 7" high.

There is nothing finer than
medieval jewelry
to set your outfits asparkle. Except for maybe
Celtic jewelry
and
gothic jewelry
. Oh, and S
teampunk jewelry
ain't too shabby either. We mention this because it needed mentioning, and not because
Strongblade
happens to sell all of these.
Keywords: Dragoncrest Candle Holder