Free Shipping on Orders more than $150! (Continental U.S. Only)
Expedited Shipping Available! Call or E-mail us at service@strongblade.com
Dragoncrest Candle Holder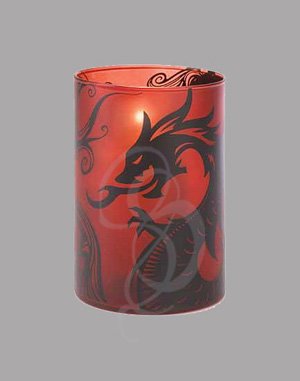 Dragoncrest Candle Holder
Casts a Facinating Play of Light
Striking Dragon Design
Glass
Model No.
Price
Availability
Description
---
* Stock items ship from Strongblade in 1-3 days. Please allow an additonal day for engraving or sharpening.
Add a wild edge to any decor with this tattoo-graphic candle lantern! Strikingly stylized dragon pattern casts a fascinating play of light and shadow and flickering flame. Weight 1 lb. Candle not included. Glass.
4 3/4" x 4 3/4" x 7" high.
4 3/4" x 4 3/4" x 7" high.
Average rating
Product reviews
Strongblade Cutlets
100% Cuts of Useful Information
Strongblade is one of the most prolific suppliers of LARP Swords and LARP Gear in the United States. Why look at four or five different sites when you can get all of your LARP equipment at one easy-to-use, beautiful, witty, crafty, intelligent website like Strongblade.com?