Free Shipping on Orders more than $150! (Continental U.S. Only)
Expedited Shipping Available! Call or E-mail us at service@strongblade.com
Dragoncrest Candle Holder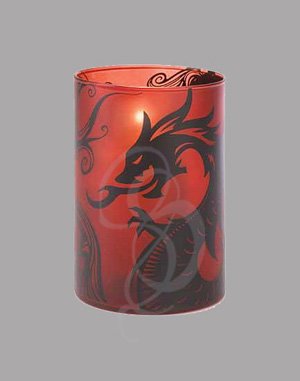 Dragoncrest Candle Holder
Casts a Facinating Play of Light
Striking Dragon Design
Glass
Model No.
Price
Availability
Description
---
* Stock items ship from Strongblade in 1-3 days. Please allow an additonal day for engraving or sharpening.
Add a wild edge to any decor with this tattoo-graphic candle lantern! Strikingly stylized dragon pattern casts a fascinating play of light and shadow and flickering flame. Weight 1 lb. Candle not included. Glass.
4 3/4" x 4 3/4" x 7" high.
4 3/4" x 4 3/4" x 7" high.
Average rating
Product reviews
Strongblade Cutlets
100% Cuts of Useful Information
The Japanese
katana
was often worn paired with another smaller sword or dagger. The shorter sword, called a wazashi (also known alternately as
Wakizashi
and, occasionally, Fred) measured twelve to twenty-four inches in length. The dagger, a tanto measured six to twelve inches in length. Tonto, from the Lone Ranger, has nothing to do with
Asian weapons
, but for the record, he was 67 inches long.
Strongblade
sells lots of
katanas
. Have a look at our
samurai swords
.
Keywords: Dragoncrest Candle Holder