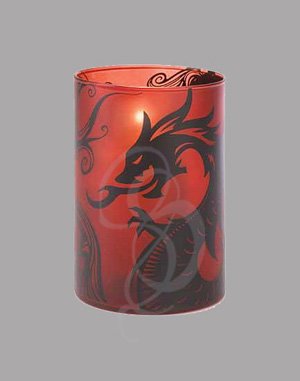 Dragoncrest Candle Holder
Dragoncrest Candle Holder
| | |
| --- | --- |
| • | Casts a Facinating Play of Light |
| • | Striking Dragon Design |
| • | Glass |
Add a wild edge to any decor with this tattoo-graphic candle lantern! Strikingly stylized dragon pattern casts a fascinating play of light and shadow and flickering flame. Weight 1 lb. Candle not included. Glass.
4 3/4" x 4 3/4" x 7" high.
4 3/4" x 4 3/4" x 7" high.

Did you know that
Strongblade
sells
tempered swords
and
non-tempered swords
? The tempered swords are heat treated to have a harder surface yet retain a more elastic inner core than non-tempered swords. This means they hold a better edge when sharpened and are less likely to permanently deform or bend.
Keywords: Dragoncrest Candle Holder