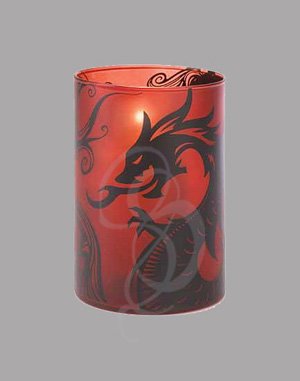 Dragoncrest Candle Holder
Dragoncrest Candle Holder
| | |
| --- | --- |
| • | Casts a Facinating Play of Light |
| • | Striking Dragon Design |
| • | Glass |
Add a wild edge to any decor with this tattoo-graphic candle lantern! Strikingly stylized dragon pattern casts a fascinating play of light and shadow and flickering flame. Weight 1 lb. Candle not included. Glass.
4 3/4" x 4 3/4" x 7" high.
4 3/4" x 4 3/4" x 7" high.

The
Spartans
were reknowned for their ferocity and for their military strength and skill. Of the Greek city-states, the Spartans were one of the few who actually had a standing army with professional soldiers. (Most of the other city-states had sitting armies who would rarely stand at all. Okay, just jokes). The Spartans carried
Spartan Spears
in one hand and
Spartan Shields
in the other. They wore
Spartan Helmets
and
Spartan Greaves
, and bore
Spartan swords
at their sides. Coincidentally,
Strongblade
sells all of these.
Keywords: Dragoncrest Candle Holder