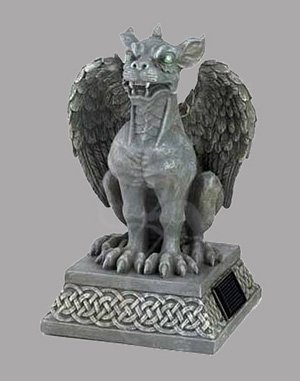 Solar Gargoyle Statue
Solar Gargoyle Statue
| | |
| --- | --- |
| • | Fearsome Guard |
| • | Solar Powered Eyes |
| • | Polyresin |
Fearsome faux-stone statue guards your entryway with true Medieval style! Traditional sculpture gets a modern update; his solar powered eyes light up the night with an eerie light. On/off switch in base; solar panels on sides of base. One rechargeable AA battery included. Polyresin.
6 1/2" x 6 1/2" x 10 1/2" high.
6 1/2" x 6 1/2" x 10 1/2" high.

The
flintlock pistol
was the greatest advance in
pirating
since the wooden leg. The concept was fairly simple: gunpowder was stuffed into the barrel. A lead ball, usually wrapped in some sort of fabric, was stuffed in. A hammer was then pulled back half-way and left that way until the gun was ready to fire. The pistol technically was not meant to fire in this position, although sometimes they were known to go off half-cocked (and yes, that is the origin of that expression). When the gun was ready to be fired, the hammer was pulled back all the way and the trigger was squeezed. If you're feeling flinty, go check out the
Strongblade
selection of
flintlock pistols
,
blunderbuss pistols
and
flintlock rifles
.
Keywords: Solar Gargoyle Statue