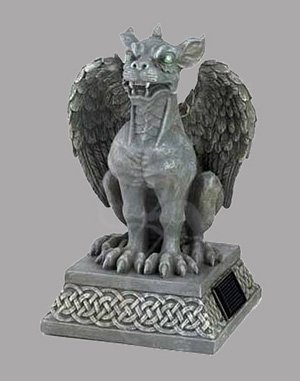 Solar Gargoyle Statue
Solar Gargoyle Statue
| | |
| --- | --- |
| • | Fearsome Guard |
| • | Solar Powered Eyes |
| • | Polyresin |
Fearsome faux-stone statue guards your entryway with true Medieval style! Traditional sculpture gets a modern update; his solar powered eyes light up the night with an eerie light. On/off switch in base; solar panels on sides of base. One rechargeable AA battery included. Polyresin.
6 1/2" x 6 1/2" x 10 1/2" high.
6 1/2" x 6 1/2" x 10 1/2" high.

When Strongblade refers to a "
Battle Sword
," we are referring to most European medieval
swords
with blades longer than 35" or so. These type of swords included
hand-and-a-half swords
(sometimes refered to as
Bastard Swords
) and the big
two-handed swords
. Real battle
swords
had blades well in excess of this, and, in fact, a 35" sword was considered a bit skimpy for fighting skirmishes. But for home use and light sparring, a 36" blade is fairly long.
Keywords: Solar Gargoyle Statue