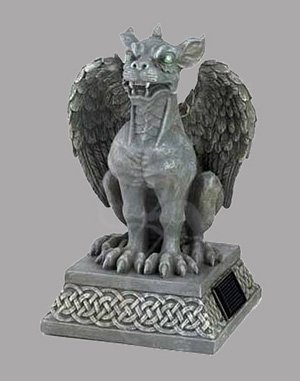 Solar Gargoyle Statue
Solar Gargoyle Statue
| | |
| --- | --- |
| • | Fearsome Guard |
| • | Solar Powered Eyes |
| • | Polyresin |
Fearsome faux-stone statue guards your entryway with true Medieval style! Traditional sculpture gets a modern update; his solar powered eyes light up the night with an eerie light. On/off switch in base; solar panels on sides of base. One rechargeable AA battery included. Polyresin.
6 1/2" x 6 1/2" x 10 1/2" high.
6 1/2" x 6 1/2" x 10 1/2" high.

The
Spartans
were reknowned for their ferocity and for their military strength and skill. Of the Greek city-states, the Spartans were one of the few who actually had a standing army with professional soldiers. (Most of the other city-states had sitting armies who would rarely stand at all. Okay, just jokes). The Spartans carried
Spartan Spears
in one hand and
Spartan Shields
in the other. They wore
Spartan Helmets
and
Spartan Greaves
, and bore
Spartan swords
at their sides. Coincidentally,
Strongblade
sells all of these.
Keywords: Solar Gargoyle Statue