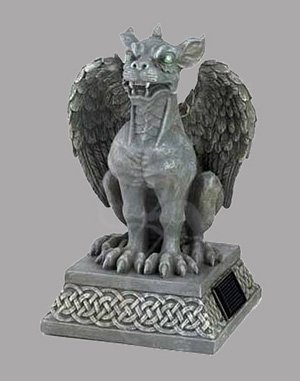 Solar Gargoyle Statue
Solar Gargoyle Statue
| | |
| --- | --- |
| • | Fearsome Guard |
| • | Solar Powered Eyes |
| • | Polyresin |
Fearsome faux-stone statue guards your entryway with true Medieval style! Traditional sculpture gets a modern update; his solar powered eyes light up the night with an eerie light. On/off switch in base; solar panels on sides of base. One rechargeable AA battery included. Polyresin.
6 1/2" x 6 1/2" x 10 1/2" high.
6 1/2" x 6 1/2" x 10 1/2" high.

Did you know that
Greek Hoplite
soldiers placed their best fighters in the front and back of their formations? The ones in the front were placed there to meet their enemies first and hopefully drive them backward. The ones in the rear were there to make sure none of their fellow soldiers decided to break formation and run.
Strongblade
has a large selection of
Greek swords
,
Greek Weapons
and
Greek Armor
.
Keywords: Solar Gargoyle Statue