Free Shipping on Orders more than $150! (Continental U.S. Only)
Expedited Shipping Available! Call or E-mail us at service@strongblade.com
Kit Rae's Anathros Sword of the Earth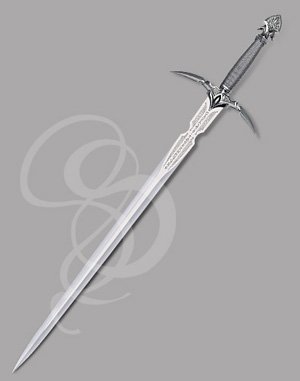 Kit Rae's Anathros, Sword of the Earth with Art print
Dazzling Hilt is Intricately Carved and Sculpted
Masterfully Etched with Ancient Runes
Adjustable Crossguards
Tempered 420 Stainless Steel Blade
Antiqued Silver Finish
Model No.
Price
Availability
Description
---
* Stock items ship from Strongblade in 1-3 days. Please allow an additonal day for engraving or sharpening.
This Item is Sold Out

Anathros is a cruel looking sword, icy, fierce and distinguished. It's another of Kit Rae's fantastically creative designs and may be the most handsome of the lot.

The sword comes has an acutely angled tip that speaks of horrificaly lethal thrusts into enemy torsos. It also features extremely deep false edges on both sides of the blade, which indicate that Anathros can dispatch an opponent with a slash as well as a thrust. The blade has a decorative curved notch just south of the hilt; a nice touch that gives the blade a bit of character and emphasizes the etched runes in that area. Those runes, while we're talking about them, ROCK. The ancient runes are stunning and are surrounded by intricate etched gilding in celtic-style patterns. Nothing adds mystery and power to a sword more than well etched runes (perhaps this is why knights would etch their swords in the medieval period).

Despite the fantastic blade, the crossguards on the sword may be the center of focus. These adjustable spikes can be set in the "extended" position, giving the sword a more graceful appearance, or in the "folded" state, which gives the sword more ferocity and compactness. The spikes are tapered and sharp, like the talons of a dragon. The embossed center of the crossguards continues this theme, with a clawlike cusp in the middle.

A breathtaking, sculpted arrowhead pommel finished the sword and provides a nice balance (both visually and physically) to the weapon. We highly recommend this sword to fans of Kit Rae, fantasy, swords, artwork, aw heck... everyone should have one of these.

Comes with an authentic, full-color Kit Rae art print and a Certificate of Authenticity.
Overall Length: 42-3/4"
Blade Length: 31-3/8"
Materials:
Blade: Highly Engraved 420 Stainless Steel
Upper grip: Intricately detailed cast metal guard and pommel

Average rating
Product reviews
Anathros: Sword of the Earth:
The sword of the Earth, bestowed with the power to reshape the earth and its elements. The warrior Aluen used Anathros´┐Ż to defeat Vardor in the Shadow War.

SWORDS OF THE ANCIENTS COLLECTION In the beginning of things in ages past there were the Ancient Ones, masters of flesh, fire, and steel, who forged the elements of which the land was made. When men and beasts came into the world the Ancient Ones purposed to have dominion over them, hence they commanded that the Dark Elves create the "Swords of the Ancients." They were forged of secret alloys and each sword was bequeathed its own special power. The swords have been used throughout the ages in the eternal struggle between good and evil.


Keywords: Kit Rae, Anathros, sword, earth, United, new, fantasy