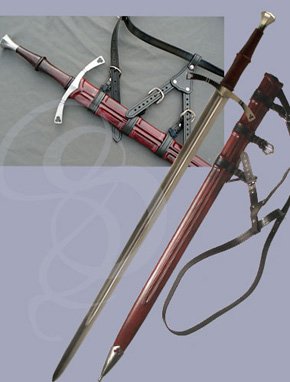 The Malatesta
Bastard sword by Valiant Armoury
| | |
| --- | --- |
| • | Fully Functional Cutting Sword |
| • | Battle Ready |
| • | Hand Forged 1060 High Carbon Spring Steel |
| • | Overall Length - 42 Inches |
| • | Blade Length - 32 inches |
| • | Part of the Valiant Armoury Signature Collection |
| • | Extremely Well Balanced |
| • | Includes Gorgeous Leather Wrapped Wooden Scabbard |
At Strongblade we offer a variety of fantastic swords but the Malatesta by Valiant Armoury is certainly one of the finest in our line. It is a magnificently crafted hand-and-a-half(bastard) sword. It features a hand forged 32 inch long high carbon steel blade which is sharpened to almost a razors edge. The beautifully contoured leather grip allows the sword to be wielded with either one or two hands. The sword is very well balanced with the center of gravity being just 4.5 inches in front of the guard.
The sword is shipped with a decorative leather covered wood scabbard and belt.
This sword is fully functional and can be used for cutting(please see note below), or as a prize in any sword connoisseurs collection.

About Valiant Armoury Swords
Valiant Armoury swords and edged collectibles are designed to be real swords. They are not to be used in theatrical-style reenacting except where specifically named for that purpose. You should not beat your sword against another sword. Swords are subject to the laws of Physics. No matter how strong the steel is in any sword or edged collectible, it can nick or chip when struck against another sword or something hard. While these swords and edged collectibles are designed to be used for soft target cutting only i.e. tamashigiri (the cutting of mats), they should only be used for that purpose by well trained professionals. Never perform cutting exercises without proper training and supervision. While Valiant Armoury swords and edged collectibles certainly could be used to cut many other items or objects, this is not their intended use and it is quite dangerous to do so and any use other than for its intended purpose will void the warranty.
Overall Length: 42 inches
Blade Length: 32 inches
Graip Length: 7inches
Blade Material: Hand Forged 1060 High Carbon Spring Steel
Blade Width at Guard: 8.5 inches
Sword Weight: 2.25 lbs.
Center of Gravity: 4.5" From Guard


Although the term
rapier
has become synonymous with any narrow-bladed
sword
(particularly those with fancy hilts), the term
rapier
actually applied to only a select few types of
swords
. Rapiers were narrow (usually one and a quarter inches wide), quite long, fairly heavy, and usually had only a slight edge on them. The extremely long length of the rapiers made them a bit heavy and cumbersome, not at all the Errol Flynn or Zorro-type small-
swords
that most people think of.
Keywords: hand-and-a-half sword arming sword real sword valiant amory