Thorn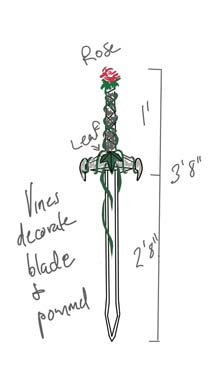 Jordan W.
Decorated with thin steel vines coming from the lead in the center of the guard to the rose at the pommel and center of the blade. Meant for a decorative fantasy purpose. Leather handwrapped handle, and silver finish on the guard give it that touch of shine.
Quicksilver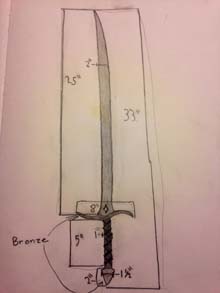 Ian F.
An excellent single-handed sword designed for quick and deadly fighting. The single edged blade allows both lethal and nonlethal combat. The pointed and sharpened pommel also allows stabbing and slashing in a much closer range. The leather wrapped handle provides a great gripping surface but allows the hilt color to show through. The diamond imbedded in the base of the blade, along with the bronze of the hilt, gives this sword a colorful pop while still keeping it as simple as possible.
The Berserker's Seax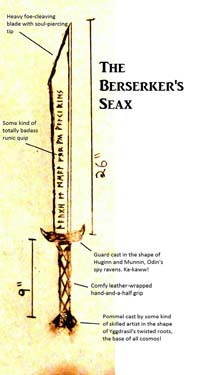 Michael K.
It's a heavy-spined, hand-and-a-half Viking style cleaver! Guaranteed to smite Grendel's arm off like a daisy. This one's not just a brute - it's so comely, you might not want to leave it home alone with your shieldmaidens. Features a tip so keen that it could split an iceberg.
The Courtier's Blade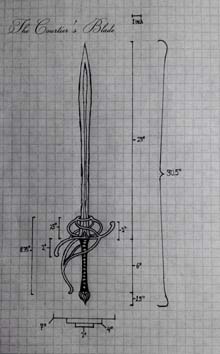 Phillip T.
Reserved for the most civilised of Renaissance statesmen, this one-handed sword holds a Hellenic flair to it - along with a resplendent swept hilt more than substantial enough to protect the ricasso and thus the wielder's hand, the sword features an elegant leaf blade of 23 inches in length styled after the Greek xiphos, which can be suited to both cutting and thrusting with ease. At a total length of 30.5 inches, it acts well as a fitting dress sword for any formal occasion; its modest size leaves it manƓuverable enough to make swift work of any meddler who has found his or her way into one's concerning imperial residence.
"Shredder"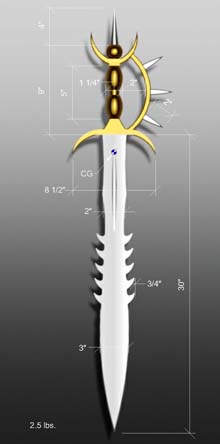 Russ S.
The "Shredder"- 2.5 lb. One Handed Gladiator Sword for unarmored battle. Honed Blade and Spikes. Bronze Hilt and Handle.
Terrance's Faire/practical Rapier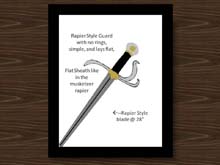 Terrance J.
My design, basically a Rapier, but shorter, maybe 32"" or so overall, and lays flat when on side, simple yet elegant guard, shorter and flat so easier to wear all day at a Renfaire, or SCA type event, the curves of the guard should be a little more dramatic, but hey, it's MS Paint. Lol!
I think the guard and pommel should be in an ""Aged/Flat/Distressed"" finish, with the brass elements, handle in wrapped leather, maybe textured?
Polish black sabre (husarka)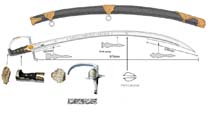 Sebastian S.
A early to mid seventieth century polish hussars sabre, inspired by examples from the sacking of Moscow.

The blade features a fairly deep curve for its type, as well as a unusually pointed tip, which was more common on Hungarian examples, but not unheard of.
Dragon's berserker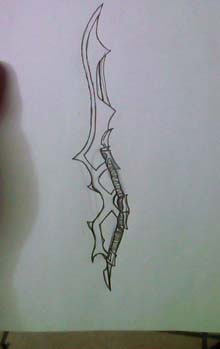 Edwin L.
The blade of this weapon is 3ft long with the hilt at 4ft it is weapon that can cut from all sides and extremely durable and reliable in combat and the small blade on the bottom of the hilt is able to detach and become a small dagger
Wanderer Sword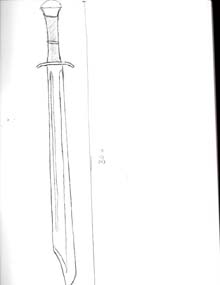 Jeremiah G.
A short sword inspired by both eastern and western designs. with a steel pommel, a leather wrapped wood handle a steel hilt a fuller and a clip point. Made of carbon steel and 30 inches overall.
bastard sword

Ruben M.
Mixed of medieval bastard swords made in Europe from the end of XIII centuries 'till XVI and fantasy forms.

Optimal for two handed use and perfect combination of size and weigh.
Flammenschwert.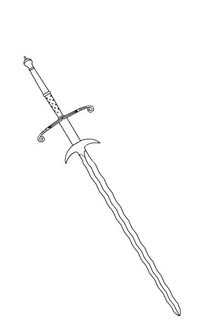 Michael K.
a simplified ZweihÀnder measuring 5.9ft, the flamberge blade adds to the sword's cutting ability, the leather wrapped recasso allows for better halfswording when needed, the grip is 25 cm long, with the quillons matching that. wootz steel blade and fittings
Royal Rapier

Israel T.
A luxurious rapier
Longsword (Exposed tang with ring pommel)

Tony H.
A really bad time in MS paint.
Falchata

Ryan C.
Combines the cut-centric hilt of the ancient Iberian falcata with the broad chopping blade of a cleaver falchion from the High Middle Ages. The blade features three broad fullers to cut down the weight and to increase the rigidity of the large, flat ground blade, and a T cross-section along the spine. It is full tang and attached to the hilt via 10 steel pins. The hilt is brass with wooden handle scales.
The Butcher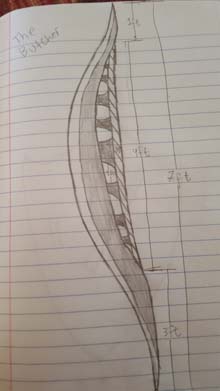 Cody G.
A large two handed blade or one handed for those who want a challenge of strength. A four foot handle down the back with multiple areas to grip. Blackened blade allowing ease of cleaning after battle.
claĂ­omh de cĂș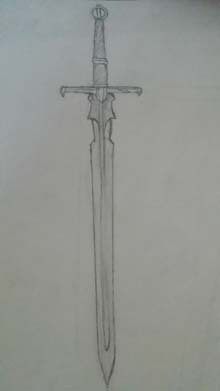 Conor H.
(pardon the poor photo quality)
just a design i have had in my head for a while and i thought that it might be fun to entire it
Wild Thorn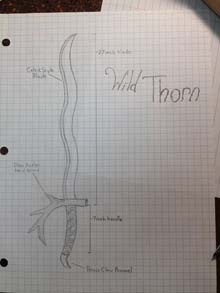 David F.
Wild Thorn is a blade worthy of only the truest conqueror of the wilds. Weather you are a powerful druid or a renown hunter this weapon will serve you well. It's Celtic style blade will cut through the thickest of foes and the pommel and hand guard sit adorned with razor sharp bone. Perfect for any character of the woodlands who dares call himself at one with nature. The weapon takes inspiration from real life Celtic knives and spear heads with animal bone for a unique design. The antler works exceptionally well as both a hand guard and blade catch.
Daedric Great sword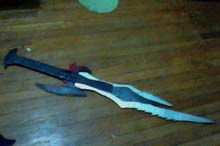 Simon H.
the sword is 36in long. pommel to the guard is 14in. The pommel is 5 1/2 in. The the big spike of the guard is 9 1/2 in. the median is 3 1/2 in and the small one is 2 1/2 in. the little edges of the blade are 1 1/2 cm. the sword is double edge and the guard is pointy. note that the picture i do own and made out of cardboard.
Fragmented blade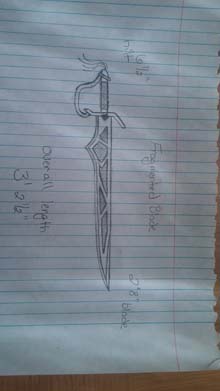 Eric T.
Just a design I had in mind.
"The Chimera"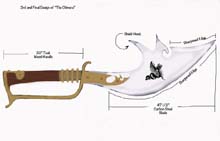 C. W.
I Present to you "The Chimera". A Massive War Sword that will disarm any Shield bearing foe. The total length is 67 1/2 inches. The Handle is Wood (Teak) and is 20" long with a Hand Guard / Tornado spin Hold. The blade is 47 1/2" and very broad as to not break during combat. The top side of this Curved Sword is a Shield hook to hook and yank towards you. There is one other Spike farther out on the top to crush a helmet of the shield bearer. I call this a War Sword, but others may consider it an Axe or maybe even a pole arm.
The First Dragonslayer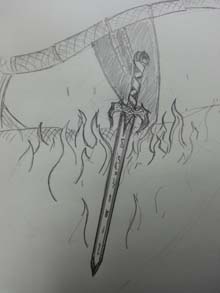 Mike S.
The First Dragonslayer was forged during the Second Dragonwar, though none can say by whom. It is known to have been wielded by a succession of knights who quested against particularly nasty dragons. It has a tendancy to appear when needed most, and disappear shortly after. All dragonkind fear the sword the same way everything else fears dragons. It can cut through scale, flesh, and bone with ease. It can also bestow its powers to lesser blades that have tasted drakeblood.
Modern Duelling Sabre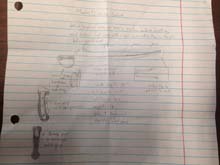 Braedon M.
This sabre is designed to fit the rule sets of 19th century Italian Duelling with the sabre. The goal of this type of duel was to draw first blood with a light slash rather than a thrust (which is how the French performed first blood duels with epees). Most of the mass is concentrated near the hilt end of the sabre, making it capable of only light flesh wounds, and the tip is rolled to prevent the ability of harming your opponent with a thrust. The edge is hollow-ground, and the blade tapers drastically both in profile and in thickness, to make the blade exceptionally flexible (which further negates thrusting ability.the hilt is made of stainless steel with a simple back quillon, knuckle-bow, and side ring. The grip is made of a rubber material and shaped with finger grooves and a thumb pad on the back to facilitate a proper sabre grip, and is attached to the tang with steel rivers and epoxy.
"Ansa" Longsword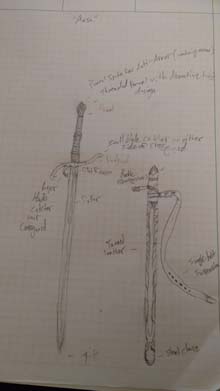 Kaleb S.
A longsword with three blade catchers (two on the crossguard and one larger one at the base of the blade). It has a blade fuller down one-third of the blade, and a flat ricasso at the base. The handle is leather or cord-wrapped (color to match the chosen scabbard color). It has a threaded pommel with a twist design and an anti-armor pommel spike. The scabbard is tanned (perhaps an option for different colors) leather, with a stainless steel chape and single belt suspension (stainless steel buckle). Ansa means "trap" in Finnish, regarding the three blade catchers on the sword.
Saif Sword

Nicholas R.
Sturdy and straight base on historical blades once common from Arabia and North Africa to Persia and India between the at least the fifth and fifteenth centuries. I would love to see a sword like this made because there are none like it available online currently.
Lann (Irish sword)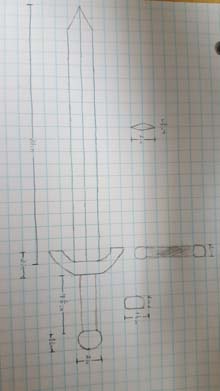 Colin M.
Perhaps a bit plain compared to other entries, but it fills a void in many sword catalogues. "Lann" comes from the Irish word for "Blade", and is a combination of a few Iron Age and Dark Age (although pre-Viking) era swords, and represents a decent "average" sword from c.300-700 in Ireland. The blade is 21×2in, with a ridged construction (diamond cross section) going 1/3in thick at the widest. The hilt components would be all wood-- oak being a good choice-- with a U-shaped guard (1in thick, 6in from end to end, going down 2in), a rectangular cross-sectioned smooth grip (4.5in long, 1×1.5 cross section), and ending in a round pommel (2in wide, 1.5in deep). This would allow the sword to have a full length of 28in (the picture is using a scale of 1 grid square represents a 1in×1in space). This simple design would be representative of the Irish "short sword" (though, as you can tell, it's a decent size blade!) that were used by the Gaelic raiders and settlers of the early middle ages.
15. Century style Fantasy Longsword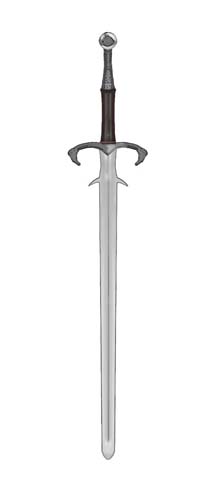 Christian E.
A Longsword based on the common European Longsword design of the 15th Century. Slightly modified with flukes / parrying-hooks - more typical of a ZweihÀnder. Lenght around 125 cm. Half wire wrap / dark-brown leather hilt.
Meyer Rapier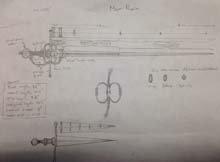 Braedon M.
A rapier designed after the training swords depicted in Joachim Meyer's fighting manual 'The Art of Battle'. A minimalistic hilt with gently s-curved quillons, knuckle-bow, double side rings, and a single finger-ring. On the ricasso of the blade is a widened schilt, which brings the center of balance closer o the user's hands, and the protrusions on the schilt serve as blade catchers. The large globose pommel would be hollow, to cut down on weight, and is intricately ground with twisted fluting to match the guard, and golden rings on the grip, which is wrapped in black leather over cord. This is my first attempt at designing a sharp version of a dedicated training sword design. The sword should weigh between 1.0 and 1.2 kilos
old school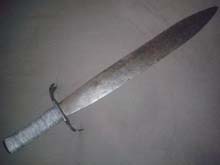 Melvin O.
this I had since I was young it would be nice to see it made for cosplay or nerf waring :)
Lulu Forest Vengeance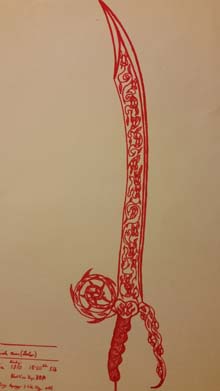 Johnathan N.
Intelligent magic scimitar with a sprite spirit within
The Bayonet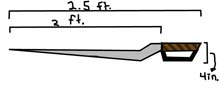 Ben .
A sword purely for stabbing, it is also possible to put it on a gun and actually use it as a bayonet.
Drake sword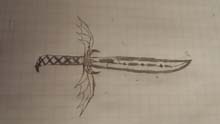 Wyatt L.
Hand and a half sword, kogarasu maru blade style with a straighter spine and no edge on back third of blade, as well as alternating blood grooves and a grip where the blade is unhoned. Dragon claw or talon blade catches at intersecting points with wing stylized hand gaurd. Sharpened claw pommel.
Functional flamberge backsword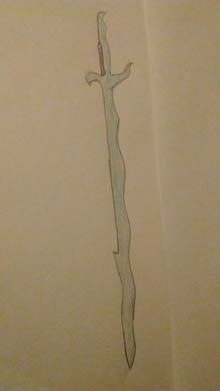 Shane K.
The 3' blade of this half-flamberge backsword would have a teardrop cross section thickening at the base to flow into a textured handle, allowing the wielder to push through cuts much like a Dao, with a shallow spike to keep from slicing your own hands. Ideally crafted as a single piece of forged high-carbon spring steel in gunmetal with a titanium dioxide hamon to show off the curves
Einhendr Bani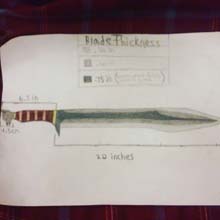 Sarah F.
Elegant sword design with a leather wrapped hilt and a wolf pommel l
The Aireon Blade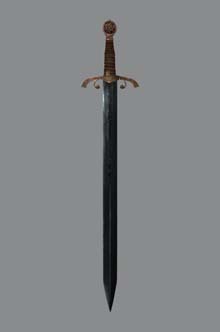 Tim M.
A 36" long blade inscribed with spells of power and protection. The last of five such swords that were forged during the Wizard Wars that took place during the First Age of Men and the featured weapon in the upcoming Sword Bearer Saga.
Luna Battle Scythe(still a blade!!)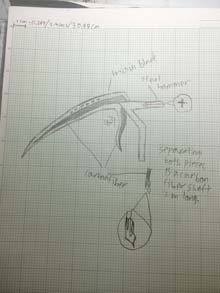 Adrian .
Okay so ignoring the fact that i chose the design of Luna Version 12.2, this battle scythe is a light weight fast blade only those skilled enough can use. Depending on the steel you use for the blades, it could weigh up to 8kg. The main materials used are; TECCELL-FB and Carbon Fiber. The blades themselves are steel and the rivets holding everything together internally are of that same material. Okay scythes historically arent weapons but i combined many weapons from a time period of a mellenia world wide consisting of war hammers, halberts, that one chinese weapon i forgot, and a harpoon.. That ancient chinese weapon i mentioned makes the 100 degrees seperating the main blade and secondary. This is such that when something is caught there, it would not easily be hooked or stuck. However i curved the blade too aggressively in this particular design to give it that scythe look. The war hammer takes up a large portion so i decided that a "t" shape should keep weight in check, and that it devastates armor but on a larger scale. If your looking for the simplest, shortest answer, yes this is still considered a blade, and yes it is operational. If a scythe is not considered, fine, just scrap the carbon fiber pole and 3rd blade. It works. Last point, this is just one of those weapons you put on your horse or cart and grab it in war time, not a portable self defense weapon you use in the market place with a buckler.
The BĂ­ta-Ange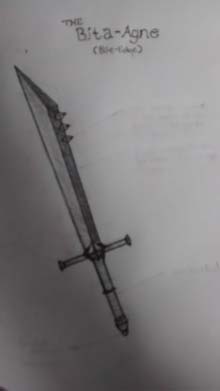 Eiran T.
The BĂ­ta-Ange (Bite-Edge) is my own design of a two-handed sword with a notable feature of 3 teeth near to the tip which gives it its name. The sword is primarily a medium-weight weapon, probably about the weight of a pretty thick cleaver because of it's moderately thick blade, given the metal used which is most likely 5160 SPRING STEEL, and this gives it the ability to be used in a chopping motion allowing its teeth to bite into some of the thickest armour. It has a pronounced tip which also allows it to stab in a forward motion to give devistating results, and the crossguard is reminiscent of a Zweihanders giving that this is a two-handed sword and to offer more defence against opponents. The tang is threaded through a piece of White Ash wood which is then shaped to give it an ovular grip followed by wrapping in leather, all held together by screwing a spommel with a rounded tip on the end... which can also be thrown.
Defensoris Magnus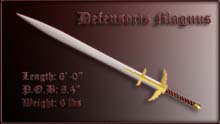 Michael P.
Defensoris Magnus - Great Defender, is a greatsword that is designed with inspiration taken from 16th century greatswords for its overall shape, and ancient Greek Xiphos (to which the title pays a tribute) for the shape of the blade. As far as the hilt goes I decided to give it a less conventional, more fantasy, look, while trying to keep it reasonable and functional.

The wide leaf-shaped blade contributes to the sword's cutting ability (its main attribute), while the central-ridge shape makes the blade stiff and well suited for thrusting. The quillons, or the secondary guard, are there to possibly assist with half-swording, as well as to serve as an additional line of defense for the wielder.
Scavenberge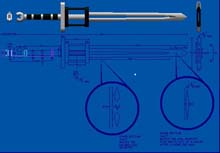 James W.
An awesome two handed sword that can also be wielded as a half hand sword due to the handle in the blade. This mighty weapon is a combination of influences from European to Japanese. The cutting edges of the blade have a katana like geometry and the metal is a well heat tempered 1060 carbon steel. The handle within the blade is really the tang entering into the hilt, the guard surrounding it is made of a durable non rusting material meant to offer short range blunt attacks and protection of the hand when half handing. The traditional hilt itself is split into two hand size segments separated by a thin piece of steel. The end of the pommel is a W for war.
All in all the sword is about 41 inches long or so.
Blade of the damned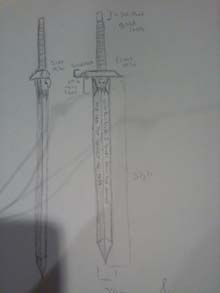 Sam B.
I dont know what kind of description to do.so ill do a detail one and a background on it. I'd like it to be a light but durable steel for the blade and a gold crossguard and pommel. With a dark brown leather grip, and the engraving as well please. ( background ) the blade of the damned was forged but death itself, with the fires of hell and the water of heaven. Death crafted the blade and one of deaths generals Thanotas sacrificed his immortal being to bond to the blade and become one with the weilder. The blade banishes corrupt souls back to hell and releases innocent souls up to heaven. Only granted to those who have travled threw purgatory and claim the bladed from the lost souls that guard it and crave for the taste of human flesh.
The Fell Cleaver

Fred P.
A hefty two-handed sword inspired by certain video game sword designs. I made the design more realistic and took inspiration from swords in real life. The 30 inch long steel blade features two fullers and a flared tip based off of Congolese short swords. It also features a long leather-wrapped hilt with simple black iron fittings and a ring pommel with lanyard. A unique sword perfectly designed for cleaving off heads and crushing your enemies. :P
Royal Guard's Blade

Aggelos P.
A blade fitting the Royal guard adequately.
New katana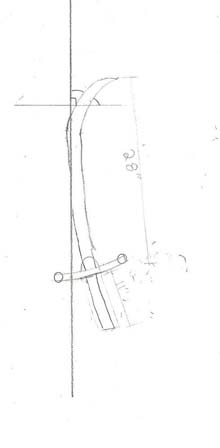 Alberto G.
with a carbon steel (perhaps a 1055 carbon), it may look like a katana or a saber, the design is based on the construction of the katana, taking good of its elaboration (qualities of strength), applying a higher angle at the end of the blade to maximize cutting power, changing the "tsuba" by a cross guard to improve hand protection.
Viking Sword Solvistapp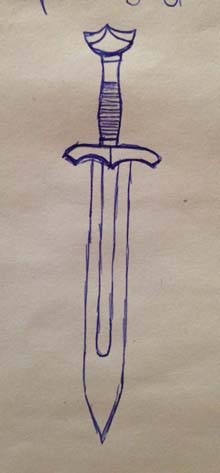 William R.
Based on my Skyrim mod "Solvistapp". Solvistapp was a named weapon in TES III: Morrowind, though it simply used the Nordic Broadsword model.
The kingslayer

Michael C.
Barbarian spider sword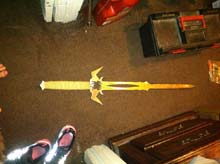 Chris S.
Waves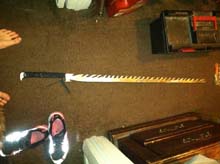 Chris S.
Stainless steel ,katana style design with rolling waves on back of sword , can opener style front point, with birds beak hook on handle , leather wrapped handle with noose wrist strap
Death Butcher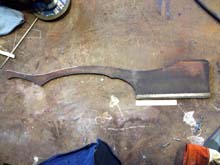 Chris P.
I know it's not a sword, it's an axe. But, I had to share. I made this out of 3/8ths AR-400 plate. That's a six inch scale next to the blade for reference. It's extremely efficient and ergonomic even considering the way the handle looks.
Bloodmaker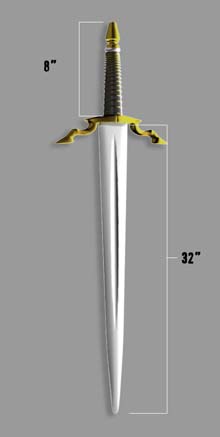 Roberto C.
This is a sample design. Do not vote for it, or you will be throwing your vote away. Which reminds me of a couple presidential candidates here in the US...
Double Bladed Cutlass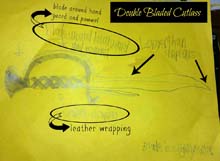 Julian C.
This original design is by Julian, who is a dyslexic, 14 year old, sword loving, A and B student in Tennessee. He loves his LARP swords from Strongblade that he got for Christmas and just ordered two more yesterday! He's always working on his own designs and is excited about this contest!

Julian has written out the details on the artwork.

Thanks for your consideration!
Tyrant of the sea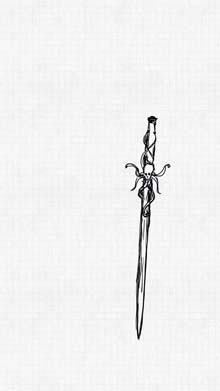 Gerad B.
Simple yet elegant design that makes reference to traditional blades while maintaining originality. The cthulu design gives a dark, fantasy appeal but has all the potential to be done in a beautiful manner.
Elven assassin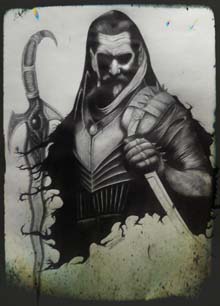 Pat L.
Why settle for the cheap dagger you got at first level when you can have a soul drinker 5000 for only 1000 gold!
Luxion Rose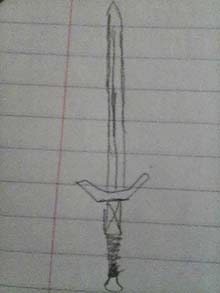 Hunter V.
A sword used by a knight used in a story I wrote a little ways back. A shorter longsword(a bastard sword if you follow Skallagrim's logic). A single fuller, upcurved quillons, a scent stopper pommel, and a half wire grip. I imagined the grip being orange-red with gold crossguard and pommel, but that was just me.
Einhendr Bani (one handed slayer)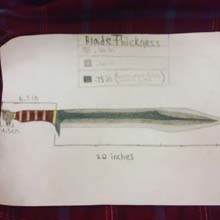 William F.
This one handed sword is simply designed and unique. The blade is a combination of several classic styles resulting in a weapon with an elegant yet fatal structure. The blades straight edge allows it to be used for the usual hacking of enemies. The curve towards the point allows for slicing of flesh. The curve then straitens out into an even point useful for piercing armor and flesh alike. The hilt is leather wrapped, and to top it off the pommel is a wolf head.
Royal Rapier

Israel T.
A luxurious rapier