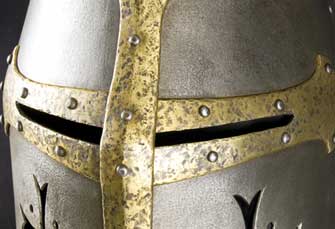 Helmets
Strength and courage are essential tools to any warrior, but it's usually the brain that defeats good opponents. Why not protect the second most important part of your anatomy (the most important if you're a woman). Have a gander at these brain buckets.
Strongblade Lore
(A Bit of History According to Strongblade)
Back in the days of Hromgar Standdish peopel used to throw their helmets in big piles on the floor, which damaged the floor and annoyed wives to no end. Hromgar, known for his famous sword stands, decided to do something about it. He set about crafting a stand for helmets. His initial attempt yielded the Helmet Hammock, which was far less successful than he had hoped. But after many long year...

oh, who am I fooling? There was no Hromgar Standdish. I'm sorry. I just don't think there's any real history for helmet stands. Please, just buy this stand and know that it is an excellent place for your helmet to sit when not on your head. Thank you.
Inspired by Model SBBR-STAND-HELM