Categories
Tributes
Just wanted to let you know that we received the replacement Right-handed Guard for the Rapier I bought for my wife. Looks and fits good,!!!! What surprised both of us was that You kind folks sent along a scabbard frog for free!!!!! THANK YOU!!!!! Your customer service IS TERRIFIC. I have notified members of our local S.C.A. and Roman groups how WONDERFUL you folks are. As soon (tomorrow) I can find out the phone # for your local Better Business Bureau, I am going to call it and tell them about how pleased we are with your products AND customer service!!!! Expect another and future orders from us.
Yours sincerely and Very Happily,
Larry M.
---
Roman Swords and Greek Swords
Whether you're standing shoulder to shoulder on the beaches of Troy or facing down a Thracian gladiator in Rome, these are the swords you would have used.
---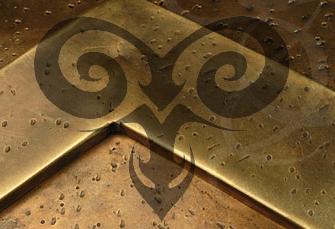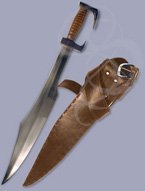 Spartan-Style Greek Sword
$105
Fantasy Greek Sword with Leather Belt and Scabbard
Model
SBA-GREEKSWORD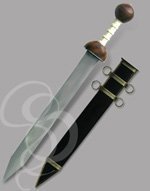 Roman Gladius Sword
$80
loopRoman Gladius Sword Type III with double scabbard
Model
SBA-ROMANGLADIUSIII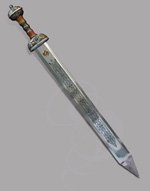 Imperator: Sword of Julius Caesar
$199
Richly Detailed, Decorative Gladius from Toledo
Model
SBC-CAESARSWORD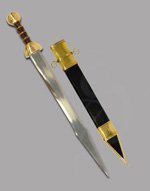 Roman Sword with Brass Banded Grip
$135
Roman Gladius with Contoured Blade and Brass Pommel
Model
SBDK-ROMANSWORD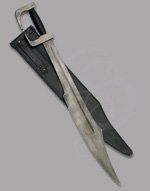 Battle Ready 300 Spartan Sword
$175
Licensed, Battle Ready 300 Spartan Sword and Scabbard
Model
SBMU-300-SPARTANSWORD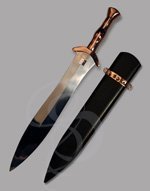 Spartan Lakonia Short Sword/Dagger
$150
20-inch Windlass Small Sword with Bronze Grip and Gaurd
Model
SBMU-SPARTANLAKONIA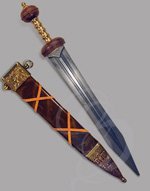 Gladius Decimus, Tribune's Sword
$132
Tenth Legion Roman Tribune Gladius
With Decorative Sheath
Model
SBC-GLADIUSDECIMUS