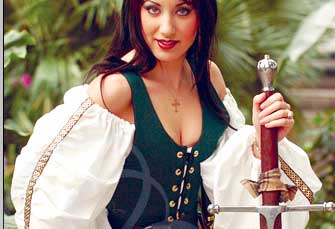 Clothing for Women
Beauty is only skin deep, but a great dress goes farther -- it changes the way you think about yourself. Put one of these on and amplify your natural beauty.
Strongblade Lore
(A Bit of History According to Strongblade)
The traditional chemise dates all the way back to the Roman Empire (and possibly farther than that) and is sometimes called a "shift." Back then it looked quite different and was a unisex undergarment. As the years moved on, men started to realize that they just didn't care if their clothes smelled bad (this was the origin of the male "sniff test" for cleanliness. The same test that many bachelors still perform on the piles of clothing that lie on the floors of their apartments to this day). The men stopped wearing shifts, so the chemise evolved into a purely feminine item.

Chemises became a fashion statement, with hundreds of various styles available to or custom made for women. Ruffles, trim, woven patterns, lace, and bloody bones from dead lovers were added to the chemise to give them a hint of flash and personality (the bones thing was a bet I had with a friend and is not actually true. Lisa, you owe me $5).

The chemise has withstood the test of time. They are still the very height of femininity. In fact, modernized versions of the chemise can be bought at any women's clothing store, either for wear as a slip or for use as a nightgown.


Inspired by Model SBSO-RUFFLEDCHEMISE