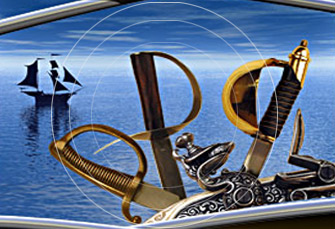 Pirate Swords
Just when pirates couldn't get any cooler, Johnny Depp goes and immortalizes Captain Jack Sparrow in Pirates of the Carribean. Sure, some of these aren't your typical pirate swords, but all fit the pirate mold quite well. Arrrr.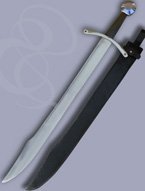 SBA-SWD-MED-FALCHION
Medieval European Falchion
$77
In Stock!
This falchion has a nice curve to it and is weighted similarly to the first falchions created. Sleek design and a distinct blade groove put this falchion in a class of its own.
Strongblade Lore
(A Bit of History According to Strongblade)
Buccaneers: Buccaneers were, basically, pirates based in and around the Carribean. Here's a multiple choice question. See if you can guess which is the correct answer: Buccaneers got their name because:
a. They were privateers who had "bucked" the system
b. The word buccaneer comes from the French "boucan" which means to barbecue, because they tended to barbecue a lot.
c. They were sailors who had to deal with stormy Carribean seas, so they learned to stand on the "bucking" decks of their ships.
The correct answer? A little hint, if a website never has multiple choice questions on it, and it suddenly asks you a multiple choice question, always choose the least likely possible choice. Yes, the answer is "b." Buccaneers often poached cattle and pigs and smoked them on the West Indies version of barbecues -- wood-framed boxes called "boucans."
Inspired by Model SBC-BUCCANEERII