Categories
Tributes
Just wanted to let you know that we received the replacement Right-handed Guard for the Rapier I bought for my wife. Looks and fits good,!!!! What surprised both of us was that You kind folks sent along a scabbard frog for free!!!!! THANK YOU!!!!! Your customer service IS TERRIFIC. I have notified members of our local S.C.A. and Roman groups how WONDERFUL you folks are. As soon (tomorrow) I can find out the phone # for your local Better Business Bureau, I am going to call it and tell them about how pleased we are with your products AND customer service!!!! Expect another and future orders from us.
Yours sincerely and Very Happily,
Larry M.
---
Short Swords
What they lack in reach, they make up in style. Short swords are convenient, fast and stylish. It's the perfect way to say "Back off, punk" in a classy, understated way.
---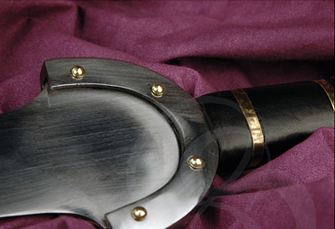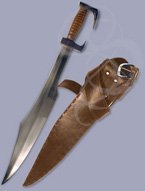 Spartan-Style Greek Sword
$105
Fantasy Greek Sword with Leather Belt and Scabbard
Model
SBA-GREEKSWORD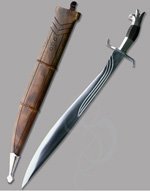 Laeonis - Broad-bladed Short Sword
$315
Premium Broad-bladed Short Sword with Carved Wooden Sheath
Model
SBCB-LAEONIS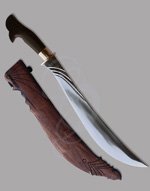 Lorei Curve Bladed Short Sword
$315
Premium Curve-bladed Short Sword with Carved Wooden Sheath
Model
SBCB-LOREI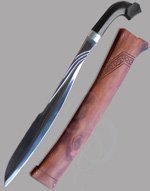 Moulner Falcatus - Double Curved Sword
$315
Premium Double Curved Short Sword with Carved Wooden Sheath
Model
SBCB-MOULNER