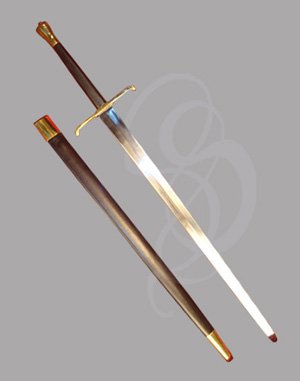 The Great War Longsword
Two Handed War Sword
| | |
| --- | --- |
| • | CUSTOM ENGRAVING AVAILABLE - See Below |
| • | Overall 43 Inches Long |
| • | 32 Inch Long Blade |
| • | Carbon Steel Blade |
| • | Includes Leather Wrapped Wood Scabbard |
| • | Fantastic Balance and Weight |
| • | Behold and Worship! |
| • | Models on Sale |
Welcome to over 3 feet of steel terror. That's right. 43 inches of nightmares for your enemies. It is, quite possibly, one of the finest greatsword that we offer. And the answer to our most heartfelt prayers. Behold, the Great Sword of War. Behold and worship.

This weapon is a magnificent piece of steel. Long and beautiful, with a 32 Inch blade and a massive 8 inch grip. Oh, and did we mention that it's under 3 pounds? Yeah, we couldn't believe it either.



Overall length: 43 Inches
Blade length: 32
Blade width: 1.75 Inches
Handle: 8 Inches long x 1.5 Inches wide
Hilt: 8.25 Inches x .25 Inches
Pommel: 3 Inches x 2 Inches
Blade Material: High Carbon Steel
Weight: 2.8 pounds
Scabbard: 0.75 pounds, 35 Inches long x 2.5 Inches wide



When Strongblade refers to a "
Battle Sword
," we are referring to most European medieval
swords
with blades longer than 35" or so. These type of swords included
hand-and-a-half swords
(sometimes refered to as
Bastard Swords
) and the big
two-handed swords
. Real battle
swords
had blades well in excess of this, and, in fact, a 35" sword was considered a bit skimpy for fighting skirmishes. But for home use and light sparring, a 36" blade is fairly long.
Keywords: Warsword, war, sword, greatsword, two-handed sword, two handed sword, longsword