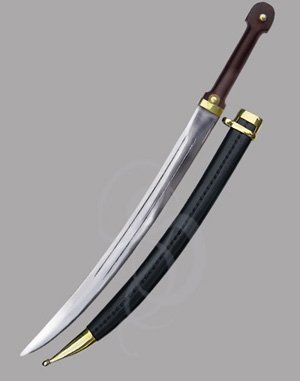 Russian Kindjal Sword
Russian Kindjal Sword
| | |
| --- | --- |
| • | Beautifully Crafted! |
| • | Excellent Short Sword |
| • | Ideal for all Warriors! |
| • | Overall Length 23 Inches |
| • | Models on Sale |
Better known as a Cossack weapon. This Russian Kindjal has similarities to the Roman Gladius. A short sword with a wood grip. This sword was designed for close combat fighting knife and its origins date back to the mid-20th century.
The sword comes with a scabbard.
See specification tab below for more information.
Overall Length:
23 inches
Blade Length:
17 inches
Width:
2 inches
Depth:
0.2 inches
Weight:
1.2 lbs.
Material of
Construction:
carbon steel
Includes leather scabbard.

Did you know that
Greek Hoplite
soldiers placed their best fighters in the front and back of their formations? The ones in the front were placed there to meet their enemies first and hopefully drive them backward. The ones in the rear were there to make sure none of their fellow soldiers decided to break formation and run.
Strongblade
has a large selection of
Greek swords
,
Greek Weapons
and
Greek Armor
.
Keywords: Russian Kindjal Sword fighting knife