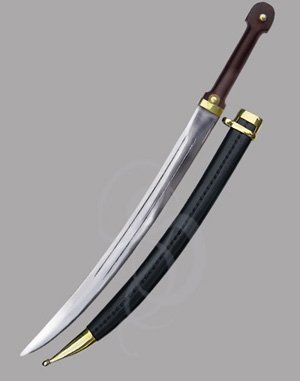 Russian Kindjal Sword
Russian Kindjal Sword
| | |
| --- | --- |
| • | Beautifully Crafted! |
| • | Excellent Short Sword |
| • | Ideal for all Warriors! |
| • | Overall Length 23 Inches |
| • | Models on Sale |
Better known as a Cossack weapon. This Russian Kindjal has similarities to the Roman Gladius. A short sword with a wood grip. This sword was designed for close combat fighting knife and its origins date back to the mid-20th century.
The sword comes with a scabbard.
See specification tab below for more information.
Overall Length:
23 inches
Blade Length:
17 inches
Width:
2 inches
Depth:
0.2 inches
Weight:
1.2 lbs.
Material of
Construction:
carbon steel
Includes leather scabbard.

Curious about the
Assasin's Creed
? Ever wonder about the origin of the word '
Assassin
'? Well, lots of other people have. There's a big dispute about the actual etymology of the word, but one well-accepted theory is that it stems from the word hashish. As in, stick-some-in-my-hooka-and-smoke-it hashish. Apparently the assassins of the Middle East used to partake in the "kind bud" to soothe their nerves before eliminating a target. If you play
Assassin's Creed
, or if you just admire the artwork, then you should probably know that
Strongblade
carries plenty of gear from the game.
Keywords: Russian Kindjal Sword fighting knife