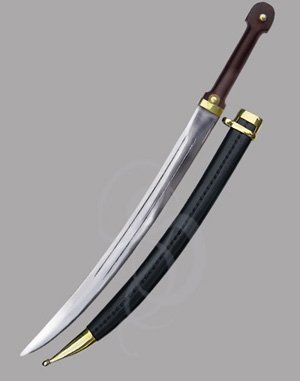 Russian Kindjal Sword
Russian Kindjal Sword
| | |
| --- | --- |
| • | Beautifully Crafted! |
| • | Excellent Short Sword |
| • | Ideal for all Warriors! |
| • | Overall Length 23 Inches |
| • | Models on Sale |
Better known as a Cossack weapon. This Russian Kindjal has similarities to the Roman Gladius. A short sword with a wood grip. This sword was designed for close combat fighting knife and its origins date back to the mid-20th century.
The sword comes with a scabbard.
See specification tab below for more information.
Overall Length:
23 inches
Blade Length:
17 inches
Width:
2 inches
Depth:
0.2 inches
Weight:
1.2 lbs.
Material of
Construction:
carbon steel
Includes leather scabbard.

Anne Bonny was probably the most famous female pirate in history. Her famous words to fellow pirate Jack Rackham (who hid in a hold on his ship when his ship was boarded) immediately before he was hanged as a pirate? "I'm sorry to see you here, Jack, but if you had fought like a man you needn't hang like a dog".
Strongblade
has plenty of
pirate swords
,
pirate flintlocks
, and
pirate accessories
. So pick some up and fight like a man (or woman).
Keywords: Russian Kindjal Sword fighting knife