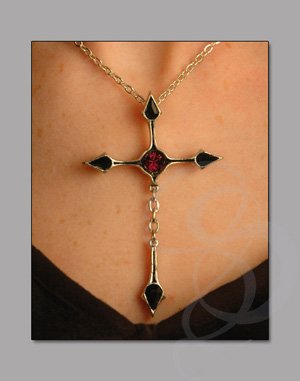 Cross of Tears
Dangling-Cross Pendant and chain
| | |
| --- | --- |
| • | Beautifully Designed and Hand-Crafted in England |
| • | Made from the Finest English Pewters |
| • | Set with a Gorgeous Purple Crystal and Four Black Cabochons |
| • | Comes with Nickle-Free Chain |
A cross of mourning, meloncholy or sorrow. Use it to grieve for humanity, or simply as a personal statement. Whatever your purpose, you're sure to add a touch of dark elegance to any outfit.

This necklace is a graceful piece of artwork, made from the finest English pewters, set with a glittering purple crystal at its center and four black cabochons at the cardinal points of the cross. Comes with a nickle-free chain.


Materials: Made from the finest English pewters. Set with a purple crystal and four black cabochons. Comes with a nickel-free chain.


No History Available at This Time.

Although the term
rapier
has become synonymous with any narrow-bladed
sword
(particularly those with fancy hilts), the term
rapier
actually applied to only a select few types of
swords
. Rapiers were narrow (usually one and a quarter inches wide), quite long, fairly heavy, and usually had only a slight edge on them. The extremely long length of the rapiers made them a bit heavy and cumbersome, not at all the Errol Flynn or Zorro-type small-
swords
that most people think of.
Keywords: cross, gothic, stylized, dangling, tears, crucifix, necklace, pendant, chain, purple, black, ebony, cabochon