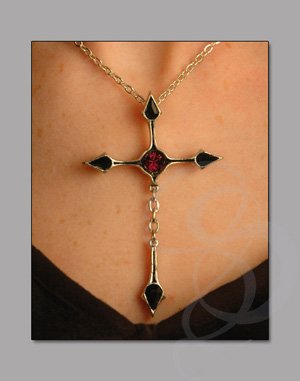 Cross of Tears
Dangling-Cross Pendant and chain
| | |
| --- | --- |
| • | Beautifully Designed and Hand-Crafted in England |
| • | Made from the Finest English Pewters |
| • | Set with a Gorgeous Purple Crystal and Four Black Cabochons |
| • | Comes with Nickle-Free Chain |
A cross of mourning, meloncholy or sorrow. Use it to grieve for humanity, or simply as a personal statement. Whatever your purpose, you're sure to add a touch of dark elegance to any outfit.

This necklace is a graceful piece of artwork, made from the finest English pewters, set with a glittering purple crystal at its center and four black cabochons at the cardinal points of the cross. Comes with a nickle-free chain.


Materials: Made from the finest English pewters. Set with a purple crystal and four black cabochons. Comes with a nickel-free chain.


No History Available at This Time.

When besieging the Muslim city of Antioch in the 12th century, European
knights
catapulted the heads of slain muslims into the city to demoralize the soldiers inside. While we don't condone lobbing heads of your enemies into cities,
Strongblade
does sell
knight swords
,
knight weapons
and
knight armor
, as well as crusader swords, crusader costumes and crusader armor.
Keywords: cross, gothic, stylized, dangling, tears, crucifix, necklace, pendant, chain, purple, black, ebony, cabochon