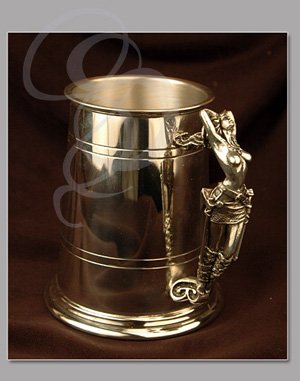 Viking Valkyrie Tankard
Pewter Valkyrie Viking Tankard
| | |
| --- | --- |
| • | CUSTOM ENGRAVING AVAILABLE - See Below |
| • | Gorgeous Arched Valkyrie Forms Handle |
| • | Made in England Using the Finest English Pewters |
| • | Intoxicatingly Meticulous Details |
| • | Okay, I'll Come Out With It -- She's, Like, Totally Hot |
| • | FREE SHIPPING ON THIS ITEM!!!! |
I guess I'm supposed to talk about the history of vikings and Valkyries, and the religious beliefs of Norsemen, including Valhalla and all that. But, good lord, all I can think about is how hot this female warrior is. Yeah, I know, completely politically incorrect. But have a look and just try to tell me I'm wrong.

Alright, on to the details. This is a nickel-free pewter tankard made in England by some of the finest pewtersmiths in Europe. The tankard holds one full pint and is completely safe as a drinking vessel. And as important as all that is, let's talk about the really, really attractive Viking woman on the side.

She is a representation of a Valkyrie, one of the famed godess-warriors of Norse mythology. The duty of Valkyries was to carry off the spirits of the mightiest warrios who had fallen in battle. They would bring the warrior to Odin, ruler of Valhalla, to fight by his side at Ragnarok, the battle at the end of the world.

Did I by chance mention how attractive this Valkyrie is? She has her head raised to the skies and her back arched provocatively, a sword at one hip, a battle axe at the other. And, she's wearing a really short skirt.

Okay, I'll admit it, that was sooooo immature. We should really appreciate the amazing figure study carried out by the artist, who presents the female form as both vulnerable and powerful. Her upward gaze conveys a devoutness and knowledge of a higher power. Her raised arms symbolize confidence and freedom, and her bare feet tell the world that she is grounded and earthy. She is a dichotomy of all that is woman. And ... hehehe ... she's, like, topless, hehehehe. Oh, and guess where your thumb goes when your drinking? Heheheh.





Material:Nickel-Free English Pewter.

Holds one full pint of liquids.


No History is Available for this Item at This Time.

Although the term
rapier
has become synonymous with any narrow-bladed
sword
(particularly those with fancy hilts), the term
rapier
actually applied to only a select few types of
swords
. Rapiers were narrow (usually one and a quarter inches wide), quite long, fairly heavy, and usually had only a slight edge on them. The extremely long length of the rapiers made them a bit heavy and cumbersome, not at all the Errol Flynn or Zorro-type small-
swords
that most people think of.
Keywords: valkyrie, viking, tankard, freya, alchemy, helga, norse, norman, sexy, seductive,