Free Shipping on Orders more than $150! (Continental U.S. Only)
Expedited Shipping Available! Call or E-mail us at service@strongblade.com
Dragon Motorcycle Folding Knife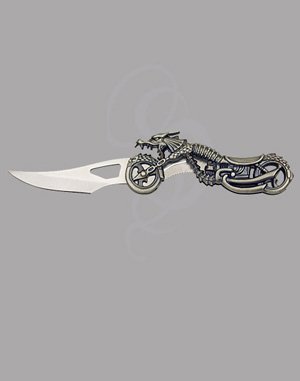 Dragon Motorcycle Folding Knife
Stylish Folding Knife
Stainless Steel
Just Perfect for the Dragon and Motorcycle Lovers!
Model No.
Price
Availability
Description
---
* Stock items ship from Strongblade in 1-3 days. Please allow an additonal day for engraving or sharpening.
Dragon Motorcycle Folder. 4 1/8 Inches closed. Stainless blade with thumb slot. Antique silver finish stainless handles in shape of motorcycle and dragon.
Weight: 0.3lbs
Average rating
Product reviews
Coming Soon
Strongblade Cutlets
100% Cuts of Useful Information
Did you know that
Strongblade
sells
tempered swords
and
non-tempered swords
? The tempered swords are heat treated to have a harder surface yet retain a more elastic inner core than non-tempered swords. This means they hold a better edge when sharpened and are less likely to permanently deform or bend.
Keywords: Stainless Steel Knife Lockback folding Dragon Motorcycle Folding Knife