Free Shipping on Orders more than $150! (Continental U.S. Only)
Expedited Shipping Available! Call or E-mail us at service@strongblade.com
Dragon Motorcycle Folding Knife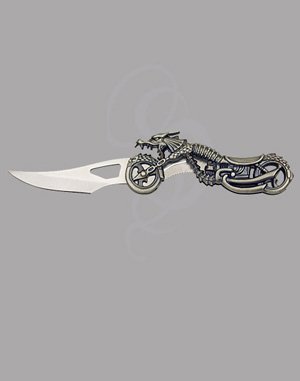 Dragon Motorcycle Folding Knife
Stylish Folding Knife
Stainless Steel
Just Perfect for the Dragon and Motorcycle Lovers!
Model No.
Price
Availability
Description
---
* Stock items ship from Strongblade in 1-3 days. Please allow an additonal day for engraving or sharpening.
Dragon Motorcycle Folder. 4 1/8 Inches closed. Stainless blade with thumb slot. Antique silver finish stainless handles in shape of motorcycle and dragon.
Weight: 0.3lbs
Coming Soon
Average rating
Product reviews
Strongblade Cutlets
100% Cuts of Useful Information
The Spartans were reknowned for their ferocity and for their military strength and skill. Of the Greek city-states, the Spartans were one of the few who actually had a standing army with professional soldiers. (Most of the other city-states had sitting armies who would rarely stand at all. Okay, just jokes). The Spartans carried Spartan Spears in one hand and Spartan Shields in the other. They wore Spartan Helmets and Spartan Greaves, and bore Spartan swords at their sides. Coincidentally, Strongblade sells all of these.