* Stock items ship from Strongblade in 1-3 days. Please allow an additonal day for engraving or sharpening.
Double the firepower. Double the class. This double-barrel, non-firing flintlock reproduction just oozes with power and sophistication. Leave it to the Italians to make killing look so good.
This flintlock is a reproduction of a 17th century pistol. The original, made with an ivory stock and similarly engraved, was capable of firing double projectiles before having to reload. Quite important since the average loading time for a flintlock pistol was 3.5 hours (okay, maybe not that long).
This reproduction has fully functional locks (for those of you hung over, that means that stuff actually happens when you pull the trigger). The brilliantly engraved locks are cast from a dark steel and bolted tightly to the simulated ivory stock. The stock itself is etched with a leaf pattern. The hammer holds a simulated piece of flint/saltpeter tightly between its arms.
The original was made circa. 1680 by the famous Lorenzi family of Italy. It would have been a fantastically expensive weapon at the time and would surely have been used only by the upper crust of society.
This item is a gorgeous collection piece and a fabulous addition to any costume. Particularly good for elegant pirates or other classy (but dangerous) gunmen.
Optional Engraved Stand
For a low price you can add a personalized engraving to your pistol stand. We will apply 2.5 inch by 1.25 inch solid brass plate to the stand engraved with your personalized message. This makes for a truly wonderful gift or award. Just click-on the engrave button next to the pistol stand part number and use our engraving utility to enter up to three lines of text in the font of your choice.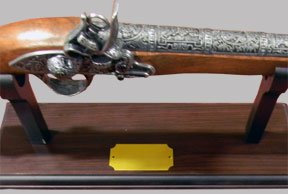 Coming Soon!
Flintlocks
The flintlock pistol was the greatest advance in pirating since the wooden leg. Developed in the 1600s, these pistols revolutionized ship-to-ship combat (and on-land raiding). The concept was fairly simple: gunpowder was stuffed into the barrel. A lead ball, usually wrapped in some sort of fabric, was stuffed in. A metal rod (normally embedded in the bottom of the gun's barrel) was removed and used to jam the ball and powder as far back as possible, and as close as possible. A hammer (sometimes called a cock [insert giggles here]) was then pulled back half-way and left that way until the gun was ready to fire. The pistol technically was not meant to fire in this position, although sometimes they were known to go off half-cocked (and yes, that is the origin of that expression). When the gun was ready to be fired, the hammer (or cock, hehehehe) was pulled back all the way and the trigger was squeezed. A the top of the hammer, a piece of flint was held in place by a vice. When the trigger was squeezed, the hammer was released and the flint struck a metal plate known as a frizzen. A spark would be created, which would light the powder in the barrel, which in turn would make a satisfying "boom" sound. A by-product of this "boom" was the ejection of the lead ball from the barrel at a high rate of speed. Flintlock owners had to be careful that the barrel was not facing anyone when they created their "boom" sound or injury or death could result.

Moisture or water was one of the greatest threats to flintlock pistols. Wet powder would not light when sparked, so the flintlock owner would neither get the satisfying "boom" nor the lethal projectile flying from their barrel. Instead, this would often mean that they, themselves, would be the target of an opponent's satisfying boom and resultant projectile. That, or a sword through the esophagus.


Strongblade Cutlets
100% Cuts of Useful Information
"Did you know that Strongblade sells tempered swords and non-tempered swords? The tempered swords are heat treated to have a harder surface yet retain a more elastic inner core than non-tempered swords. This means they hold a better edge when sharpened and are less likely to permanently deform or bend."