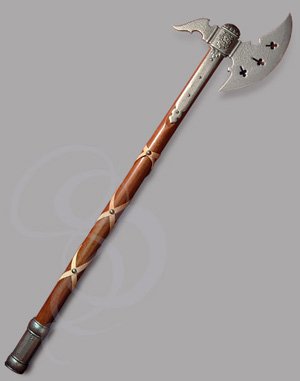 Decorative German Battle Axe
Decorative Battle Axe for Display or Costume Use
| | |
| --- | --- |
| • | Made in Spain |
| • | Historically Accurate Look |
| • | Ornate Yet Lethal Looking |
| • | Safe and Perfect for Display or Costumes |
There's nothing quite like holding a great battleaxe. It sings in your hand, and is warm, yielding and yearning for your ... wait .. no, that's what it feels like to hold a broadway actess. But a great battle axe is very similar, really, except for the fake breasts and what not.

This is a fantastic decorative replica of a germanic style battle axe. It's based on an actual 13th century axe found in Germany. This reproduction was masterfully created in Spain. It features a brilliant weathered texture on the metal and three cloverlike perforations on the blade. Etched on the staff of the blade is a lion, similar to the Scottish Rampant Lion. The wood handle is wrapped in crossing thongs that simulate leather, affixed to the haft with metal rivets. The handle is finished with a handsome, weathered buttcap.

This is a perfect display weapon for hanging or wearing with a costume. It looks classy and powerful and is historically based, for that added conversational factor.


Overall Length: 31"
Weight: 3lbs 13oz
Handle Length: 26"
Blade Length: 7"
Material: Blade and Buttcap are made from a metal alloy.




Punishing Blows
The axe's first incarnation was as a shaftless, stone tool before recorded history. It was mounted on antlers and wood very early on and used as a tool for cutting trees and, most likely, other people. The tool develoepd through the bronze age and reached one of it's pinnacles among the vikings of the 15th and 16th centuries. The battle axe was well suited to the vikings' needs -- fairly easy to make, easy to carry and disastrous to opponents. The horrendous blows that could be made with these tip weighted weapons were legendary; the axes were known to shatter shields and helmets with ease.

Like many weapons, battle axes eventually grew longer (from a little more than 3 feet in length). Polearms developed, allowing weilders to keep opponents at bay in much the same way that the rapier did for swords.



The
flintlock pistol
was the greatest advance in
pirating
since the wooden leg. The concept was fairly simple: gunpowder was stuffed into the barrel. A lead ball, usually wrapped in some sort of fabric, was stuffed in. A hammer was then pulled back half-way and left that way until the gun was ready to fire. The pistol technically was not meant to fire in this position, although sometimes they were known to go off half-cocked (and yes, that is the origin of that expression). When the gun was ready to be fired, the hammer was pulled back all the way and the trigger was squeezed. If you're feeling flinty, go check out the
Strongblade
selection of
flintlock pistols
,
blunderbuss pistols
and
flintlock rifles
.
Keywords: Battle, Axe, decorative, denix, spain, ornate, fancy, german