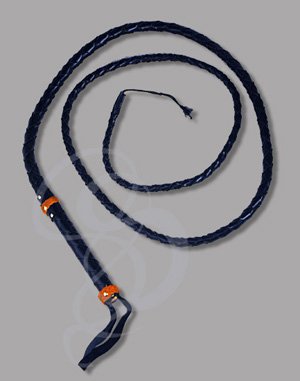 Leather Bullwhip, Long
Decorated Braided Leather Bullwhip
| | |
| --- | --- |
| • | Superb Quality Braided Leather |
| • | Riveted and Decorated |
| • | Metal Capped Handle with Wrist Strap |
| • | Makes a Really, Really Cool Sound When Used Properly |
| • | Available in 8-foot and 5-foot Versions |
| • | Cracker Tip can be Replaced When Worn Out |
When was the last time you broke the speed of sound? Better yet, when was the last time you doubled the speed of sound? Yes, that's right, the whip is the only weapon that I can think of at the moment that can actually break the speed of sound. That's why you hear that groovy crack when you flick a whip properly.

This whip is made in Spain, where they really, really know how to make whips. It's 100% fine braided leather, decorated with brass studs and dyed leather cuffs. It features a stylish brass cap at the base of the handle, a leather wrist loop and a replaceable "cracker" at the tip.

This is a fully functional whip, rugged and durable and capable of lasting a long, long time with proper care (use saddle soap or talllow). It also makes a wonderful costume addition and an intriguing display piece. Oh, all right, and it's an awesome addition to any S&M tool kit. There, I said it. Lord knows you've all been thinking it.

Please take care when using whips as they can hurt like hell or injure you seriously if used improperly.
Length: Eight-Foot or 5-Foot Versions available.
Materials: 100% Spanish Leather. Brass Studs.


History Coming Soon!

Anne Bonny was probably the most famous female pirate in history. Her famous words to fellow pirate Jack Rackham (who hid in a hold on his ship when his ship was boarded) immediately before he was hanged as a pirate? "I'm sorry to see you here, Jack, but if you had fought like a man you needn't hang like a dog".
Strongblade
has plenty of
pirate swords
,
pirate flintlocks
, and
pirate accessories
. So pick some up and fight like a man (or woman).
Keywords: whip, bullwhip, bulwhip, lash, spain, western, indiana Jones, leather