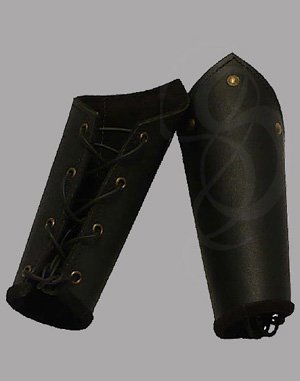 Premium Leather Bracers, Knight
Knights Battle Arm Bracers Black -
| | |
| --- | --- |
| • | Soft chrome tanned leather with suede backing |
| • | Perfect for LARP or Theater |
| • | Provides a Medieval look to your outfit |
| • | A versatile simple design |
| • | Each Piece is Inspected Before Shipping to Strongblade |
| • | Lace up closure |
When danger was afoot, it was the medieval knight who charged forward, his only concern being the safety of his people. Brave, morally superior and terrifyingly skilled at arms. And speaking of arms, what's protecting yours? Exactly. Grab a set of these before someone leaves your knightly arm stinging, red and swollen.

Our Knights Battle Arm Bracers are great for LARP, theater and wearing to the Ren Fair. Arm bracers are a great compliment to your outfit and provide that perfect Medieval look. These bracers are made of soft chrome tanned leather and have a suede backing so they are very comfortable to wear. They feature antique brass rivits and grommets, with lace up closure.




Wrist: 6.25 Inches
Forearm: 8.25 Inches
Length: 8.5 Inches
No History is available for this item at this time.









There is nothing finer than
medieval jewelry
to set your outfits asparkle. Except for maybe
Celtic jewelry
and
gothic jewelry
. Oh, and S
teampunk jewelry
ain't too shabby either. We mention this because it needed mentioning, and not because
Strongblade
happens to sell all of these.
Keywords: Bracers, Vambrace, celtic, leatherworks, knight, paladin, crusader, hero, LARP, armor, adjustable