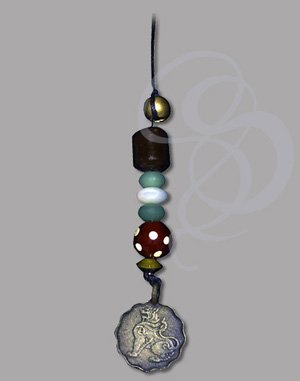 Jack Sparrow Hair Beads
Officially Licensed Jack Sparrow Hair Beads
| | |
| --- | --- |
| • | Adventurous Moroccan-Style Beads |
| • | Precise Replica of the ones Worn by Jack Sparrow |
| • | Brass Antique-Finished Charm |
Okay, you've got the Jack Sparrow Sword, the Jack Sparrow Pistol, the Jack Sparrow Ring, and the Jack Sparrow Ring Pack. You're ready for action and looking even better than Johnny Depp in your rig. But you've got one problem; that stupid Boy Scout medal that you hung on a string with plastic beads looks nothing like the Jack Sparrow Hair Beads. Well, fret no more. We now have the official Jack Sparrow Long Hair Charm from Master Replicas.

These Moroccan-style beads are an exacting replica of the beads worn by Johnny Depp in all three of the Pirates of the Caribbean movies. The brass, antiqued coin charm that dangles from the thong is carved with an Asian-style lion and weathered to look as if it's seen years on the open seas. The colorful beads are stylish and a perfect reproduction of the ones worn by Captain Jack Sparrow.

If you're looking to finish your Sparrow collection, then you'd best grab a set of these. At this price, you might as well grab a few to hang from your hair and cap.


Length: 3 inches

Medalion: Weathered Brass






Captain Jack Sparrow
Johnny Depp revolutionized pirates in film with his virtuoso performance as Captain Jack Sparrow in the 2003 film "Pirates of the Caribbean: Curse of the Black Pearl". The movie (and his adept (or should we say, a-Depp) interpretation of the role created a Pirate-fervor across the world. There was merchandising aplenty for Sparrow-inspired goods, but no one tried to recreate the most important pieces of Sparrow's equipment; With the sequel, "Dead Man's Chest", coming out in Summer of 2006, Master Replicas has corrected that mistake. The Jack Sparrow sword and Jack Sparrow Flintlock Pistol have both been masterfully re-created and presented for the pleasure of collectors around the world.

The fictional Captain Sparrow was, originally, the captain of the equally fictional Black Pearl, one of the most feared pirate ships in the Caribbean. He was a fierce fighter, a strong captain and perhaps a little too kind of heart for a pirate. He had a certain eccentric class that makes him endearing, despite his constant state of drunkenness and his wobbly gait.

Captain Jack Sparrow's crew mutinied against him and marooned him on a deserted island. His First Mate, Barbossa, took command of the ship and promptly triggered a curse on himself and his crew by stealing a chest of cursed Aztec gold coins. Sparrow in the meantime either saved himself by riding sea turtles off the island or was rescued by rumrunners who used the island as a cache for their goods, depending on who you ask. From then on, he staggered and listed when he walked, slurred his speech and spasmed occasionally. Most of those traits allegedly came from heat stroke suffered on the island he was marooned at. The slurred speech, however, comes from his seemingly perpetual state of drunkeness.

Johnny Depp claims that one of his primary inspirations for the role was Rolling Stones guitarist Keith Richards. Fairly odd, but it makes sense in some weird sort of way.

Master Replicas tells us that the several different versions of the Captain Jack Sparrow sword were made for the movie. For closes up shots, they made a real sword -- heavy, steel, you know the type. For action sequences, they made fake aluminum versions that could be swung more easily. Strongblade wisdom holds that, if you can't swing your sword, then you don't deserve it. But in this case, we'll let it slide. It is Johnny Depp, after all.

Curious about the
Assasin's Creed
? Ever wonder about the origin of the word '
Assassin
'? Well, lots of other people have. There's a big dispute about the actual etymology of the word, but one well-accepted theory is that it stems from the word hashish. As in, stick-some-in-my-hooka-and-smoke-it hashish. Apparently the assassins of the Middle East used to partake in the "kind bud" to soothe their nerves before eliminating a target. If you play
Assassin's Creed
, or if you just admire the artwork, then you should probably know that
Strongblade
carries plenty of gear from the game.
Keywords: Jack Sparrow, Hair Beads, jewelry, pirate, Caribbean