Free Shipping on Orders more than $150! (Continental U.S. Only)
Expedited Shipping Available! Call or E-mail us at service@strongblade.com
Assassin's Creed Retractable Extension Knife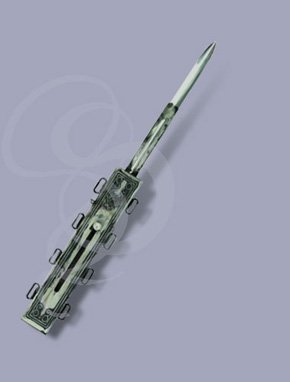 Altair's Retractable Wrist Knife
Stylish, Stealthy and an Integral Part of Altair's Arsenal
Blade Retracts and Extends, Locks into Place
Attaches to Altair's Vambraces
Model No.
Price
Availability
Description
---
* Stock items ship from Strongblade in 1-3 days. Please allow an additonal day for engraving or sharpening.
Cannot ship to CA, NY, MA or Canada.

When it's time for close-range neutralizing, Altair relies on his hidden Extension Knife. A quick slide of the lever and the blade sldes out and locks. When the job is done, another quick slide of the lever and it slides the blade back. If all goes well, no one will even know. Until it's all over.

The Assassin Extension Knife locks into place with a simple slide. A release lever allows it to slide and retract. Attaches easily to your Assassin Vambrace. Available unsharpened.


Overall: 19-1⁄8"
Wt: 1 lb/4 oz
Blade: 9" long, 5⁄8" wide, 3⁄16" thick
Operation: The blade has lever which physically needs to slide out and slide back.

Average rating
Product reviews
History Coming Soon.
Strongblade Cutlets
100% Cuts of Useful Information
Although the term rapier has become synonymous with any narrow-bladed sword (particularly those with fancy hilts), the term rapier actually applied to only a select few types of swords. Rapiers were narrow (usually one and a quarter inches wide), quite long, fairly heavy, and usually had only a slight edge on them. The extremely long length of the rapiers made them a bit heavy and cumbersome, not at all the Errol Flynn or Zorro-type small-swords that most people think of.
Keywords: Altair, Assassin's, Creed, wrist, retract, extension, knife, costume, blade