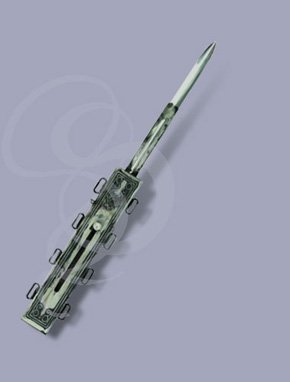 Assassin's Creed Retractable Extension Knife
Altair's Retractable Wrist Knife
| | |
| --- | --- |
| • | Stylish, Stealthy and an Integral Part of Altair's Arsenal |
| • | Blade Retracts and Extends, Locks into Place |
| • | Attaches to Altair's Vambraces |
Cannot ship to CA, NY, MA or Canada.

When it's time for close-range neutralizing, Altair relies on his hidden Extension Knife. A quick slide of the lever and the blade sldes out and locks. When the job is done, another quick slide of the lever and it slides the blade back. If all goes well, no one will even know. Until it's all over.

The Assassin Extension Knife locks into place with a simple slide. A release lever allows it to slide and retract. Attaches easily to your Assassin Vambrace. Available unsharpened.


Overall: 19-1⁄8"
Wt: 1 lb/4 oz
Blade: 9" long, 5⁄8" wide, 3⁄16" thick
Operation: The blade has lever which physically needs to slide out and slide back.

History Coming Soon.

The
Spartans
were reknowned for their ferocity and for their military strength and skill. Of the Greek city-states, the Spartans were one of the few who actually had a standing army with professional soldiers. (Most of the other city-states had sitting armies who would rarely stand at all. Okay, just jokes). The Spartans carried
Spartan Spears
in one hand and
Spartan Shields
in the other. They wore
Spartan Helmets
and
Spartan Greaves
, and bore
Spartan swords
at their sides. Coincidentally,
Strongblade
sells all of these.
Keywords: Altair, Assassin's, Creed, wrist, retract, extension, knife, costume, blade