Free Shipping on Orders more than $150! (Continental U.S. Only)
Expedited Shipping Available! Call or E-mail us at service@strongblade.com
Assasin's Creed II: Ezio's Boot Toppers or Covers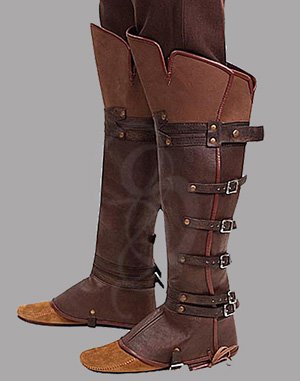 Assasin's Creed II: Ezio's Boot Toppers or Covers
Completely Made of Leather
Works Well With Any Brown Boot or Shoe
Made to Look Exactly Like the Boots Worn by Ezio
Extremely High Quality -- Fantastic Construction
Model No.
Price
Availability
Description
---
* Stock items ship from Strongblade in 1-3 days. Please allow an additonal day for engraving or sharpening.
These high Boot Toppers from Assassin's Creed II are made completely of leather and have several buckles down the back. They lace under the boot to prevent them from sliding up. Works well with any brown boot or shoe, great for many period ensembles.
History Coming Soon.
Average rating
Product reviews
Strongblade Cutlets
100% Cuts of Useful Information
"Did you know that Strongblade sells tempered swords and non-tempered swords? The tempered swords are heat treated to have a harder surface yet retain a more elastic inner core than non-tempered swords. This means they hold a better edge when sharpened and are less likely to permanently deform or bend."