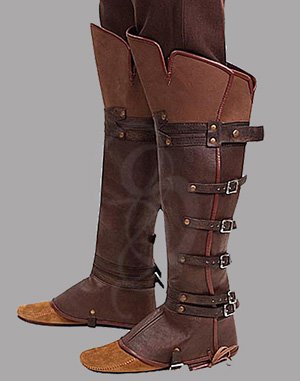 Assasin's Creed II: Ezio's Boot Toppers or Covers
Assasin's Creed II: Ezio's Boot Toppers or Covers
| | |
| --- | --- |
| • | Completely Made of Leather |
| • | Works Well With Any Brown Boot or Shoe |
| • | Made to Look Exactly Like the Boots Worn by Ezio |
| • | Extremely High Quality -- Fantastic Construction |
These high Boot Toppers from Assassin's Creed II are made completely of leather and have several buckles down the back. They lace under the boot to prevent them from sliding up. Works well with any brown boot or shoe, great for many period ensembles.
History Coming Soon.

Curious about the
Assasin's Creed
? Ever wonder about the origin of the word '
Assassin
'? Well, lots of other people have. There's a big dispute about the actual etymology of the word, but one well-accepted theory is that it stems from the word hashish. As in, stick-some-in-my-hooka-and-smoke-it hashish. Apparently the assassins of the Middle East used to partake in the "kind bud" to soothe their nerves before eliminating a target. If you play
Assassin's Creed
, or if you just admire the artwork, then you should probably know that
Strongblade
carries plenty of gear from the game.
Keywords: Assassin, Creed, Boots, altair, licensed, official, Ezio's Boot Toppers or Covers costume