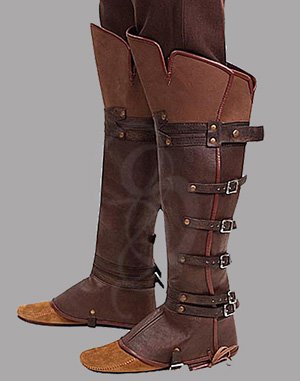 Assasin's Creed II: Ezio's Boot Toppers or Covers
Assasin's Creed II: Ezio's Boot Toppers or Covers
| | |
| --- | --- |
| • | Completely Made of Leather |
| • | Works Well With Any Brown Boot or Shoe |
| • | Made to Look Exactly Like the Boots Worn by Ezio |
| • | Extremely High Quality -- Fantastic Construction |
These high Boot Toppers from Assassin's Creed II are made completely of leather and have several buckles down the back. They lace under the boot to prevent them from sliding up. Works well with any brown boot or shoe, great for many period ensembles.
History Coming Soon.

The Japanese
katana
was often worn paired with another smaller sword or dagger. The shorter sword, called a wazashi (also known alternately as
Wakizashi
and, occasionally, Fred) measured twelve to twenty-four inches in length. The dagger, a tanto measured six to twelve inches in length. Tonto, from the Lone Ranger, has nothing to do with
Asian weapons
, but for the record, he was 67 inches long.
Strongblade
sells lots of
katanas
. Have a look at our
samurai swords
.
Keywords: Assassin, Creed, Boots, altair, licensed, official, Ezio's Boot Toppers or Covers costume