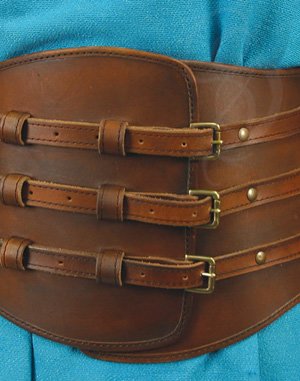 Roman Gladiator Belt
Wide leather kidney (gladiator) belt
| | |
| --- | --- |
| • | Aged-Dyed Leather |
| • | Adjustable Straps |
| • | Antique Brass Buckles |
This wide kidney belt offers great protection in the collesseum. Made of an aged-dyed leather, the belt has three adjustable straps with antiqued brass buckles for a secure fit. Brown. Order small to medium or L/XL
Small/Medium: 28 to 34" Waist
Large/X-Large: 36 to 43" Waist

When Strongblade refers to a "
Battle Sword
," we are referring to most European medieval
swords
with blades longer than 35" or so. These type of swords included
hand-and-a-half swords
(sometimes refered to as
Bastard Swords
) and the big
two-handed swords
. Real battle
swords
had blades well in excess of this, and, in fact, a 35" sword was considered a bit skimpy for fighting skirmishes. But for home use and light sparring, a 36" blade is fairly long.
Keywords: roman colleseum leather gladiator belt