Free Shipping on Orders more than $150! (Continental U.S. Only)
Expedited Shipping Available! Call or E-mail us at service@strongblade.com
LARP Dark Avenger Longsword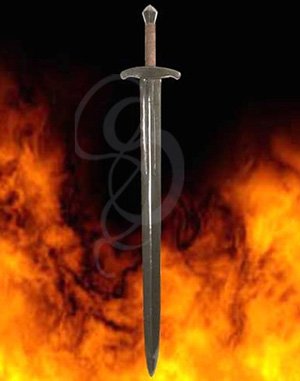 Foam / Latex One-Handed Longsword
Realistic Foam Longsword
Solid Rubber Grip for Balance and Control
Tough Layered Foam and Latex for Durability
Great Syling and Details
Model No.
Price
Availability
Description
---
* Stock items ship from Strongblade in 1-3 days. Please allow an additonal day for engraving or sharpening.
From our Warlords collection, this one handed long latex sword has an ebony blade. It is perfect for Prince and wandering Ranger alike. Features a suede wrapped, hard rubber handle for good balance and excellent control.
Please Note: This is not a metal weapon; it is a quality latex weapon for LARP and other forms of action play.
Material: Latex and rubber with police-grade kevlar core.
Overall Length:40.5 inches
Weight: Approx. 1lb.



Average rating
Product reviews
Strongblade Cutlets
100% Cuts of Useful Information
Although the term rapier has become synonymous with any narrow-bladed sword (particularly those with fancy hilts), the term rapier actually applied to only a select few types of swords. Rapiers were narrow (usually one and a quarter inches wide), quite long, fairly heavy, and usually had only a slight edge on them. The extremely long length of the rapiers made them a bit heavy and cumbersome, not at all the Errol Flynn or Zorro-type small-swords that most people think of.
Keywords: