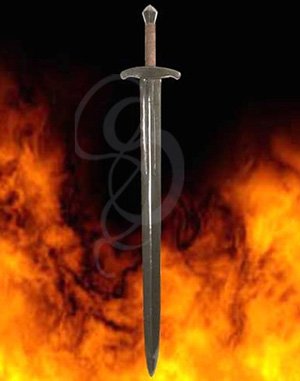 LARP Dark Avenger Longsword
Foam / Latex One-Handed Longsword
| | |
| --- | --- |
| • | Realistic Foam Longsword |
| • | Solid Rubber Grip for Balance and Control |
| • | Tough Layered Foam and Latex for Durability |
| • | Great Syling and Details |
From our Warlords collection, this one handed long latex sword has an ebony blade. It is perfect for Prince and wandering Ranger alike. Features a suede wrapped, hard rubber handle for good balance and excellent control.
Please Note: This is not a metal weapon; it is a quality latex weapon for LARP and other forms of action play.
Material: Latex and rubber with police-grade kevlar core.
Overall Length:40.5 inches
Weight: Approx. 1lb.




Did you know that
Greek Hoplite
soldiers placed their best fighters in the front and back of their formations? The ones in the front were placed there to meet their enemies first and hopefully drive them backward. The ones in the rear were there to make sure none of their fellow soldiers decided to break formation and run.
Strongblade
has a large selection of
Greek swords
,
Greek Weapons
and
Greek Armor
.
Keywords: LARP, Sword, Avenger, Foam, latex, longsword, Windlass, prince,