Free Shipping on Orders more than $150! (Continental U.S. Only)
Expedited Shipping Available! Call or E-mail us at service@strongblade.com
LARP Dark Avenger Longsword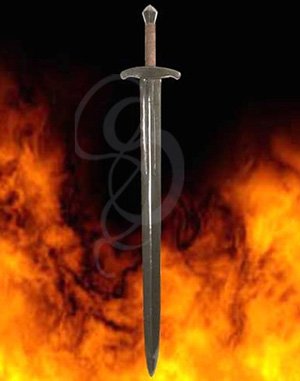 Foam / Latex One-Handed Longsword
Realistic Foam Longsword
Solid Rubber Grip for Balance and Control
Tough Layered Foam and Latex for Durability
Great Syling and Details
Model No.
Price
Availability
Description
---
* Stock items ship from Strongblade in 1-3 days. Please allow an additonal day for engraving or sharpening.
From our Warlords collection, this one handed long latex sword has an ebony blade. It is perfect for Prince and wandering Ranger alike. Features a suede wrapped, hard rubber handle for good balance and excellent control.
Please Note: This is not a metal weapon; it is a quality latex weapon for LARP and other forms of action play.
Material: Latex and rubber with police-grade kevlar core.
Overall Length:40.5 inches
Weight: Approx. 1lb.



Average rating
Product reviews
Strongblade Cutlets
100% Cuts of Useful Information
The Japanese katana was often worn paired with another smaller sword or dagger. The shorter sword, called a wazashi (also known alternately as Wakizashi and, occasionally, Fred) measured twelve to twenty-four inches in length. The dagger, a tanto measured six to twelve inches in length. Tonto, from the Lone Ranger, has nothing to do with Asian weapons, but for the record, he was 67 inches long. Strongblade sells lots of katanas. Have a look at our samurai swords.