Free Shipping on Orders more than $150! (Continental U.S. Only)
Expedited Shipping Available! Call or E-mail us at service@strongblade.com
LARP Pulverizer War Hammer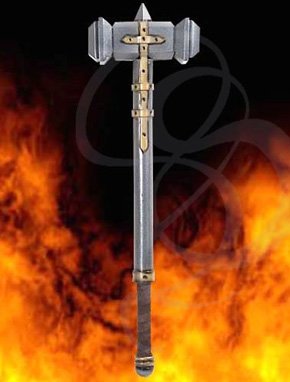 Decorated Foam Warhammer for Sparring or LARP
Rugged and Decorative War Hammer
Solid Rubber Grip for Balance and Control
Tough Layered Foam and Latex for Durability
Excellent Details and Styling
Model No.
Price
Availability
Description
---
* Stock items ship from Strongblade in 1-3 days. Please allow an additonal day for engraving or sharpening.
This double-sided bone crusher has a spiked top for thrusting and to help you clear a wide path in battle. Features a suede wrapped, hard rubber handle for good balance and excellent control. This realistic latex hammer, from our Warlords Collection, is perfect for LARP for all ages.

Please Note: This is not a metal hammer; it is a quality latex hammerfor LARP and other forms of action play.
Material: Latex and rubber with police-grade kevlar core.
Overall Height:31 inches
Weight: Approx. 1lbs



Average rating
Product reviews
Strongblade Cutlets
100% Cuts of Useful Information
Did you know that
Greek Hoplite
soldiers placed their best fighters in the front and back of their formations? The ones in the front were placed there to meet their enemies first and hopefully drive them backward. The ones in the rear were there to make sure none of their fellow soldiers decided to break formation and run.
Strongblade
has a large selection of
Greek swords
,
Greek Weapons
and
Greek Armor
.
Keywords: LARP, hammer, warhammer, war, Foam, latex,, Windlass, museum replicas