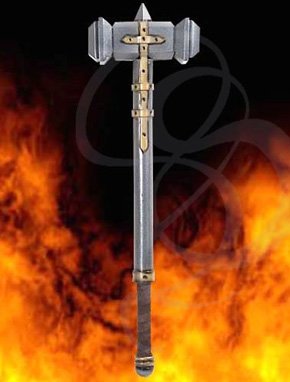 LARP Pulverizer War Hammer
Decorated Foam Warhammer for Sparring or LARP
| | |
| --- | --- |
| • | Rugged and Decorative War Hammer |
| • | Solid Rubber Grip for Balance and Control |
| • | Tough Layered Foam and Latex for Durability |
| • | Excellent Details and Styling |
This double-sided bone crusher has a spiked top for thrusting and to help you clear a wide path in battle. Features a suede wrapped, hard rubber handle for good balance and excellent control. This realistic latex hammer, from our Warlords Collection, is perfect for LARP for all ages.

Please Note: This is not a metal hammer; it is a quality latex hammerfor LARP and other forms of action play.
Material: Latex and rubber with police-grade kevlar core.
Overall Height:31 inches
Weight: Approx. 1lbs




Curious about the
Assasin's Creed
? Ever wonder about the origin of the word '
Assassin
'? Well, lots of other people have. There's a big dispute about the actual etymology of the word, but one well-accepted theory is that it stems from the word hashish. As in, stick-some-in-my-hooka-and-smoke-it hashish. Apparently the assassins of the Middle East used to partake in the "kind bud" to soothe their nerves before eliminating a target. If you play
Assassin's Creed
, or if you just admire the artwork, then you should probably know that
Strongblade
carries plenty of gear from the game.
Keywords: LARP, hammer, warhammer, war, Foam, latex,, Windlass, museum replicas