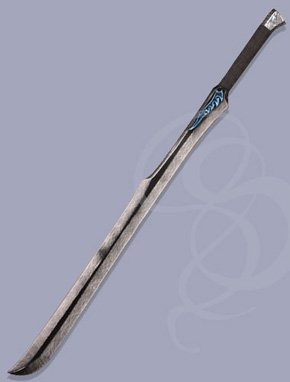 Foam Drowlord Sword
Foam/Latex Sword For LARP
| | |
| --- | --- |
| • | Beautifully Styled Fantasy Sword |
| • | Fantastic Quality! Made in Denmark |
| • | Vari-flex Tip Design Prevents Breaking |
| • | Available in Long and Medium Sizes(overall 40 and 34 inches) |
| • | Part of the Palidan Series |
| • | Models on Sale |
The Drowlord is a beautifully styled fantasy sword which is reminiscent of a Japanese samurai sword. It available in two sizes long, overall length of 40 inches and medium overall length of 34 inches.
About Strongblade's Paladin Series of Latex Swords and Daggers
These swords are manufactured using state of the art technology. They are designed to be durable, safe and extremely attractive. The manufacturing process starts with a round carbon-fiber cores that make these swords and daggers astoundingly strong, flexible and springy. The cores feature special structural reinforcements around pressure areas like the joint between guard and blade. This prevents the sword from breaking or folding at areas of high stress.
The swords are constructed of proprietary multi-density foam. This complex sounding sentence means that there is a small layer of dense foam around the core and a larger, softer layer of foam to make the shape of the sword. This makes for a very safe sword that can withstand incredible amounts of punishment. These swords feature another design aspect unique to them: A Vari-flex Tip design. This is a design feature in the tip that allows them to bend gradually rather than abruptly. This prevents stress on the tip and makes it almost impossible to cause creasing or weak spots that could lead to breaks.
A revolutionary and proprietary painting technique is used on these swords that is engineered to reflect light exactly as real metal would. The paint is also designed to protect the sword, providing a strong barrier that stretches slightly with each flex.
Accessories
Silicone Spray
In order to keep your foam or latex sword in the best possible condition we offer an ultra high quality, low contaminant silicone spray.
Click to view more details.
.
Sword Hangers
We offer sword hangers for both left and right handed warriors. They are available in various colors.
Click to view more details.
| | | |
| --- | --- | --- |
| Model | Medium | Large |
| Overall Length | 34 inches(86.4 cm) | 40 inches(102 cm) |
| Blade Length | 26 inches(66 cm) | 31inches(79 cm) |
| Handle Length | 5.75inches(15 cm) | 6.5 inches(17 cm) |

The Japanese
katana
was often worn paired with another smaller sword or dagger. The shorter sword, called a wazashi (also known alternately as
Wakizashi
and, occasionally, Fred) measured twelve to twenty-four inches in length. The dagger, a tanto measured six to twelve inches in length. Tonto, from the Lone Ranger, has nothing to do with
Asian weapons
, but for the record, he was 67 inches long.
Strongblade
sells lots of
katanas
. Have a look at our
samurai swords
.
Keywords: Foam Latex Sword For LARP