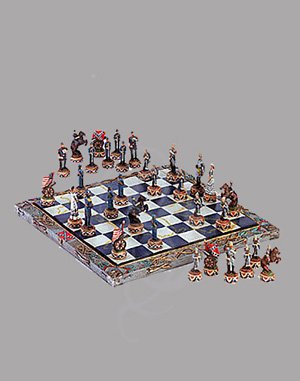 Civil War Chess Set
Civil War Chess Set
| | |
| --- | --- |
| • | Civil War Detailed Pieces |
| • | Authentic Costuming |
| • | Polyresin |
Each playing piece of this meticulously detailed chess set boasts authentic costuming and its own period props to bring the game alive for any Civil War buff. Polyresin.
14 5/8" x 1" x 14 5/8" high.
14 5/8" x 1" x 14 5/8" high.

Although the term
rapier
has become synonymous with any narrow-bladed
sword
(particularly those with fancy hilts), the term
rapier
actually applied to only a select few types of
swords
. Rapiers were narrow (usually one and a quarter inches wide), quite long, fairly heavy, and usually had only a slight edge on them. The extremely long length of the rapiers made them a bit heavy and cumbersome, not at all the Errol Flynn or Zorro-type small-
swords
that most people think of.
Keywords: Civil War Chess Set