Free Shipping on Orders more than $150! (Continental U.S. Only)
Expedited Shipping Available! Call or E-mail us at service@strongblade.com
Kit Rae Black Legion Battle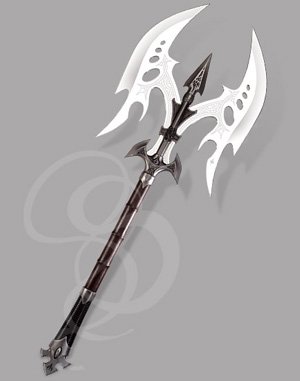 Kit Rae Black Legion Battle Axe with Free Art print
Official Kit Rae War Axe with Certificate of Authenticity
Includes Free Art Print of Ferocious Barumen Axemen
Entire Handle is Wrapped in Black Leather
Monstrous 420 Stainless Steel Blades
As always, fantasy artist Kit Rae has brought to life a creation of ferocious beauty. Malevolent and dark, this axe is nonetheless an astonishing work of art, remeniscent of both H.R. Geiger and Frank Frazetta.

This broodingly vicious axe is the perfect bit of flare for any dark warrior costume or a fantastic wall piece to throw a room together and wow the neighbors. Kit Rae has been making these weapons for years, and each is as good as the next. The quality of his items are second to none, and this war axe is no different.

The Black Legion Battle Axe features finely detailed solid metal parts and mirror-finished stainless steel blades. The blades are etched deeply with winding Celtic patterns and bored through for that wild look (and lighter feel). The finish on the haft features a special antiquing thatmakes the axe look battle worn, but not scuffed. The battle axe's handle is a tough black leather that makes holding this axe a joy. A "skull crusher" pommel completes the look of this barbarous wonder.

Each axe includes a certificate of authenticity and is presented with a black-and-white collector art print, "The Barumen" by designer Kit Rae. The Black Legion Battle Axe is branded with the designer's trademark to ensure its authenticity, and to certify that it has met the rigid quality control criteria of his studio.


Overall Length:
35 inches
Blade Length:
15 inches
Weight:
3 lbs.
Material of
Construction:

AXE MATERIAL: Mirror-polished and deep-etched, 420 stainless steel, false-edged. HANDLE MATERIAL: Solid metal handle parts, antiqued metal finish, genuine leather-wrapped shaft.
The fiercest of the Black Legion were the Barumen Axemen of Lokonia. These were the main vanguard of The Dark One's army, made up of the largest and most ferocious of Barumen soldiers. They were heavily armored in plate steel and leather and each wielded two great Battle Axes which they used with deadly skill. The Battle Axe was one of the few weapons forged by the Dark Elves in mass, each one being shaped nearly the same. Every Axeman carried two identical battle axes, with hooked and curved blades, leather grips and skull crushing pommels. The Black Legion Battle Axe could be used to chop like a traditional axe but could also be used to hook and pull an enemy. The Battle Axe could be thrown with deadly precision, and its twin points were devastating. The mere sight of this weapon caused many to retreat in battle rather than face its terrible edge.
Strongblade Cutlets
100% Cuts of Useful Information
Although the term
rapier
has become synonymous with any narrow-bladed
sword
(particularly those with fancy hilts), the term
rapier
actually applied to only a select few types of
swords
. Rapiers were narrow (usually one and a quarter inches wide), quite long, fairly heavy, and usually had only a slight edge on them. The extremely long length of the rapiers made them a bit heavy and cumbersome, not at all the Errol Flynn or Zorro-type small-
swords
that most people think of.
Keywords: Kit Rae, Black Legion, battle Axe, fantasy, weapon, free print