Free Shipping on Orders more than $200! (Continental U.S. Only)
Expedited Shipping Available! Call or E-mail us at service@strongblade.com
Double Lined Pewter Tankard wih Nymph Handle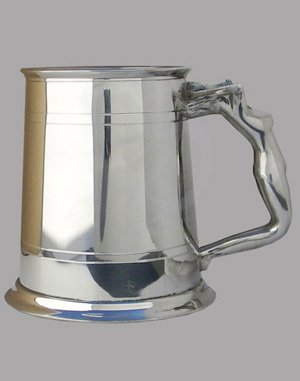 Double Lined Pewter Tankard wih Nymph Handle
Model No.
Price
Availability*
Description
---
* Stock items ship from Strongblade in 1-3 days. Please allow an additonal day for engraving or sharpening.
Product Description
I guess I'm supposed to talk about the history of the nymphs. But, good lord, all I can think about is how hot this female nymph is. Yeah, I know, completely politically incorrect. But have a look and just try to tell me I'm wrong.

Alright, on to the details. This is a nickel-free pewter tankard made in England by some of the finest pewtersmiths in Europe. The tankard holds one full pint and is completely safe as a drinking vessel. And as important as all that is, let's talk about the really, really attractive Nymph on the side.

Okay, I'll admit it, that was sooooo immature. We should really appreciate the amazing figure study carried out by the artist, who presents the female form as both vulnerable and powerful. Her upward gaze conveys a devoutness and knowledge of a higher power. Her raised arms symbolize confidence and freedom, and her bare feet tell the world that she is grounded and earthy. She is a dichotomy of all that is woman. And ... hehehe ... guess where your thumb goes when your drinking? Heheheh.


Product Details
Height: 4 3/8 Inch
Outside Top Diameter: 3 1/4
Outside Bottom Diameter: 4 1/8 Inch
Weight of Tankard: 10 Ounces
Average rating
Product reviews