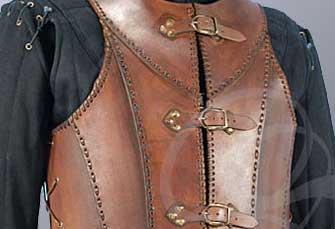 Leather Armor
As Billy Idol once commented, "Ever'one looks good in leatha." And, for the most part, it's true! Oh, and did we mention how well it wards off blows?
Strongblade Lore
(A Bit of History According to Strongblade)
Materials:Genuine Leather. Padded Internal Suedette Lining.



Length: Large: 11 inches. Small: 9.5 inches.







Inspired by Model SBPT-BRAC-SHADOWBORNE