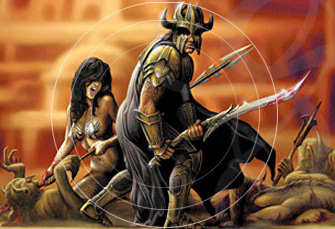 Fantasy Swords
Face it, we've all got about as much reality as we can handle these days. Escape to a land where good guys win, love is steamy and you never have to mow the lawn.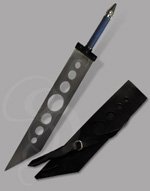 SBA-BUSTER-MAELSTROM
High-Carbon Steel Buster Sword With Sheath and Shoulder Strap
$209
In Stock!
This is a limited edition Buster sword, made from the finest High Carbon steel. This is not a toy. It is for real, not sharpened, but otherwise a very real, very strong, very heavy, very nice.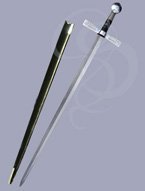 SBA-GOTHDREAM
Goth Dream Arming Sword with scabbard
$80
In Stock!
The GothDream has a historic base but with a bit of a fantasy flare, Based on the arming sword or war spike design, it long, light and very well balanced. The hilt is distinctive yet comfortable to wield.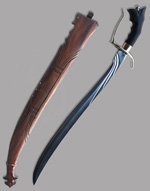 SBCB-AETHERNIS
Aethernis Premium Swept-bladed Sword with Carved Wooden Sheath
$283
In Stock!
The Aethernis is a high-carbon, fully-tempered, sharpened, and battle-ready reproduction of Filipino style, pre-conquest weapons. The curves of the blade scream of elvish grace, with sweeping flourishes arching along the forte of the blade.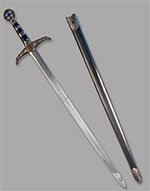 SBCM-LOCKSLEY
Blade Robin Locksley - Stainess Steel Sword of Robin Hood with Ornamented Hilt
$71
In Stock!
A dedication to Robin Hood(Robin of Robin of Locksley). A slim light stainless steel blade with a beautifully ornate hilt. The original Elegant Weapon for a More Civilized Age."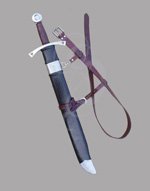 SBVA-NORWICH-FALCHION
Norwich Falchion
$323
In Stock!
The Falchion is the perfect for any Gitan or other warrior cast in the Saladin mold. Made of high quality steel sharpened to a razor's edge. It includes a beautiful leather wrapped wooden scabbard with carrying strap.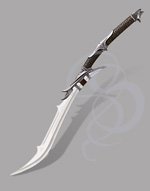 SBBR-KR-MITHRODIN
Kit Rae Mithrodin Sword with Art Print
$166
Out of Stock
Mithrodin by Kit Rae features a malevolent 24-inch J420 stainless steel blade and solid, antiqued metal hardware. The grip is wrapped in a supple leather for great grip and a truly sensuous feel.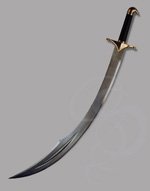 SBC-FIREDANCERSCIMITAR
The Firedancer - Fully balanced, hand-forged, tempered scimitar
$184
Out of Stock
This is a perfectly balanced, perfectly tempered, hand-forged scimitar. It was created in the world-famous Hanwei forge with temper, balance and craftsmanship as the highest priorities.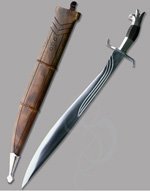 SBCB-LAEONIS
Laeonis - Premium Broad-bladed Short Sword with Carved Wooden Sheath
$283
Out of Stock
Fully tempered, battle-ready and razor sharp. Both the blade and grip of the Laeonis have a forward tilt to them that gives maximum leverage when cutting. The blade itself is wide, but still light and comfortable to hold.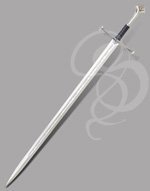 SBU-ANDURIL
Anduril: Sword of King Elessar (Aragorn)
$289
Out of Stock
This is an accurate reproduction of the sword that Aragorn/Elessar carried in Peter Jackson's The Lord of the Rings: Return of the King. The 420 stainless steel blade is flawless. The runes etched onto the blade are done tastefully and as faithful to Tolkien's descriptions as possible.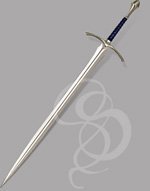 SBU-GLAMDRING
Lord of the Rings Glamdring, Sword of Gandalf
$199
Out of Stock
Lord of the Rings Hobbit Glamdring The blade of Gandalf The Grey. 47 5/8" overall. 35 1/4" AUS-6 stainless blade. Cast metal handle with leather wrapped grip and simulated gemstones.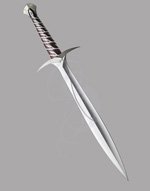 SBU-LOTR-STING-HOBBIT
Official LOTR Hobbit (Lord of the Rings) Sword - Sting
$178
Out of Stock
The Officially licensed Lord of the Rings Hobbit Sting. The blade of Bilbo Baggins. 22 1/4" overall. 15 3/8" AUS-6 stainless blade. Solid metal guard and pommel. Wooden wall display plaque with wood grain finish and silk screen graphic.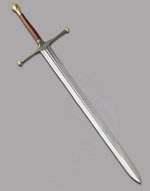 SBV-ICE-II
Ice, Sword of Eddard Stark
$315
Out of Stock
This is a licensed replica of ICE from the HBO series Game of Thrones. ICE is huge measuring almost 58 inches in length. This adult collectible is officially licensed and includes a display plaque and a certificate of authenticity.
Strongblade Lore
(A Bit of History According to Strongblade)
Glamdring, eventually the sword of Gandalf, has a long and distinguished history in Middle Earth. Narsil and Anduril (swords of the Numenorean kings)are perhaps the only swords that can match Glamdring's pedigree.

Glamdring, whose name loosely translated means 'Foe-hammer', was forged by elves in the first age. Many people believe that elven-forged blades shine with an internal light; Glamdring is no exception to this belief. It was said to shine with a powerful light -- sometimes white, sometimes blue and ocassionally red -- when foes were around.

Perhaps its greatest claim to fame is that it was weilded by Turgon, one of the most powerful elves to ever live. Turgon, you'll recall, was the King of Gondolin, the only soul to ever hold that title. He used Glamdring throughout his reign, in various battles against Morgoth and his legions. The sword was lost and Turgon killed when the Hidden City of Gondolin was sacked. The weapon disappeared for centuries afterwards and was thought lost when the world was changed by the wrath of the Valar.

It popped up again in The Hobbit, in the possession of three trolls that the wizard Gandalf dispatched. The sword was found in their possession, along with Thorin Oakenshield's sword Orcrist and Bilbo's sword (later, Frodo's sword) Sting. All three of the weapons were elven, and Orcrist is said to have been Glamdring's twin. Both swords (Glamdring and Orcrist) were forged in Gondolin, and one was known as Biter and one as Beater among Goblins, who feared both swords equally.

Gandalf took Glamdring as his own when he turned the trolls to stone and brought it to Elrond. Elrond examined the sword and told Gandalf that it was indeed Glamdring, forged in Gondolin and once weilded by King Turgon. Gandalf wore the sword for the rest of his days. His first real use of the sword was in killing the Great Goblin in the caverns of the Misty Mountains when he saved Bilbo Baggins and the troop of Dwarves led by Thorin Oakenshield. It's most notable victim was probably the Balrog of Moria, whom Gandalf slew in the epic battle that ensued while he was leading the Fellowship of the Ring through Moria. He also used the sword in several battles during the War of the Ring, including the final battle. It is believed that Gandalf took Glamdring with him into the West when he left Middle Earth.
Inspired by Model SBU-GLAMDRING