Free Shipping on Orders more than $200! (Continental U.S. Only)
Expedited Shipping Available! Call or E-mail us at service@strongblade.com
Sword of Berrion's Knights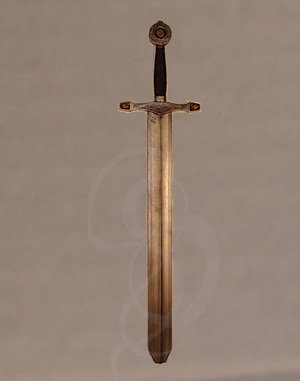 Performance Foam Rubber Bastard Sword with Composite Core
Part of our Conqueror Series of LARP Swords
One of the Most Beautiful LARP Swords on the Market
Heavier Than Most LARP Swords for Realism/Balance
Virtually Indestructable - Waterproof, Resists Punctures/Tears
Meets Safety Requirements of Many LARP Orgs

Models on Sale
Model No.
Price
Availability*
Description
Accessories-Sword Hangers
---
* Stock items ship from Strongblade in 1-3 days. Please allow an additonal day for engraving or sharpening.
Product Description
Berrion's Knights proudly wear this powerful sword. Made in the likeness of the city of Berrion, this elegant weapon was also very useful in combat. Only the Berrion's Knights are allowed to use this noble weapon.
Built around a high-performance hybrid core, the Berrion's Knight Sword looks amazing and feels even better. Like all of our Conqueror series swords, this weapon features an astounding level of detail made possible by the injection molding process that these weapons go through. The dragon style is significant and shown on the very ends of the cross guard.

The high-performance core is made to handle years of abuse and flexes just enough to provide spring and speed. The sword weighs a little over a pound, making it much more realistic than some of the ultra lights on the market.

This is a fantastic pounding sword, large enough to crush through smaller blades and great looking enough to make everyone that sees it double-take.

About our Conqueror Series Swords
Our Conqueror line of foam swords are the most realistic foam swords that we have ever seen. The molding process and high quality foam used on these weapons allows for an amazing amount of detail and the designs take full advantage of this. And though great looking, their durability may be even more impressive.

Two different styles of spine rods on the Conqueror series allow you to customize your game. One style is made of fiberglass and reinforced with polyester for strength and power. The other style is made from a carbon/fiberglass combination. These latter are considered the "Performance Series" and have a little more spring and a bit more durability to them,but not so much that you'll really notice when using it. Both styles are extremely durable and are fused with the blade and pommel to prevent slippage or torquing.

Our Conqueror lines are relatively realistic in weight (about 1 pound or more) and feature a more "rubbery" feel to them. . These are monstrously durable and have a legendary lifespan. They can be twisted and torqued like a wet rag and they will still return to true form instantly. Safety is top notch on these, with tip flex-enforcers and a good thickness of foam throughout.

The Conqueror series weapons made from a proprietary foam with no latex at all. The molding process allows all of the elements -- the composite rod, reinforced tip and quality polymers to merge into one solid item. The foam is insanely durable -- it resists puncturers and returns to shape no matter how much you deform it. A fiber matrix of fiberglass and nylon (or Kevlar/polymer depending on the weapon) increases the safety and creates a progressive absorption for less painful hits.

Weather resistance is another great strength on these. These weapons have been immersed in water for two weeks and then dried in the sun without any damage whatsoever. The Conqueror series can be used at almost any temperature. -22 degrees Farenheit up to 212 degrees Farenheit (for those of you playing on one of Jupiter's moons). The foam stays soft, no matter the temperature.

With all the technological features, you sometimes forget that there are works of art. Perhaps the best looking swords on the market.


Product Details
Total Length: 32 in
Blade Length: 23.5 in
Crossguard: 7.5 in
Hilt Length: 8.5 in
Grip: 4.5 in
Hilt Color: Silver and Gold
Weight: 0.74 lb
Average rating
Product reviews