It's not a sword, but it looks WAY too long to be a dagger. It can only be the famous Coustille dagger.
These daggers were the favorites of travelers and soldiers alike. Light and compact, but strong enough to battle a swordsman with, and angled viciously to punch through mail. Often carried by the shadier elements of medieval Europe, this was, nonetheless, a wildly popular dagger.
This Coustille, the Blackrush, is a beautifully crafted reproduction of these daggers. It features a high-carbon and full-tang blade, a nickel-plated steel guard, and a wheel pommel with a satisfyingly understated sunken hub.
The grip is made of hardwood, with a padded and double-stitched leather wrap. The wrap features a pair of beveled lines that circle the hilt, giving the dagger just the right amount of personality.
The guard on this dagger is short and rounded, making it easy to hide and withdraw with no fear of getting entangled. A shallow cusp strengthens both the arms of the guard and the shoulder of the blade, where it meets the hilt.
The dagger comes with a custom-made sheath of leather-wrapped wood. The sheath actually has a nice steel curve at the throat where it meets the rounded cusp of the dagger's cross. It also has a polished steel tip.
In all, a dangerous dagger that goes brilliantly with any costume (particularly dark-horse heroes), and looks intimidating hanging on a wall. If you're going to buy a dagger, you might as well get your money's worth.
Now Available with an Optional Gemstone in the Pommel!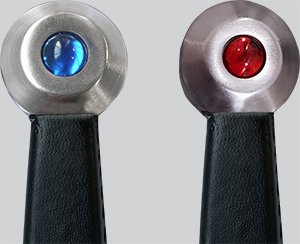 Now you can further personalize you sword-dagger with an beautiful embedded glass gemstone mounted in the pommel. The gemstone adds a gorgeous accent to the pommel and makes it a truly personalized item. Whether you chose a birthstone color, a color that matches an outfit or just one of your favorite gems, this addition is sure to make this sword-dagger stand out and be the envy of anyone who sees it. The price includes the mounting of a gemstone on each side of the pommel. To order, add the gemstone installation to your cart from the "To Order" box above on this page. Images of the available gems are shown below. Our standard installation includes two of the same color gemstones; one installed on each side of the pommel. We are happy to entertain custom requests if you would like a different color gem on each side. Please contact our customer service department for those requests.