Free Shipping on Orders more than $200! (Continental U.S. Only)
Expedited Shipping Available! Call or E-mail us at service@strongblade.com
Royal Knight Arming Sword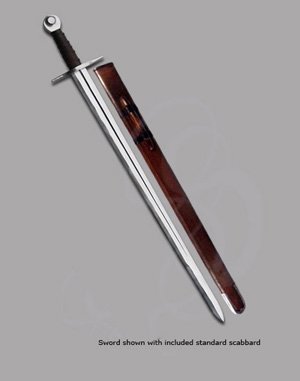 Tempered Arming Sword with Leather Scabbard
Model No.
Price
Availability*
Description
Stage Combat Version
Accessory
---
* Stock items ship from Strongblade in 1-3 days. Please allow an additonal day for engraving or sharpening.
Product Description
The light weight and well balanced single Hand Sword is based on the Marshall Sword, so named for one of Englands finest knights of the latter half of the 12 century.
The sword features a tapering blade with wide fuller. The leather covered wooden grip is contoured and enhances both the beauty and handling of the sword. The solid brushed steel guard also adds to the attractiveness of this sword.
Included is a leather wrapped wooden scabbard. The sword is available in both unsharpened and sharpened versions.

A stage combat version of this sword is also available. Please see the related items below.

Product Details
Overall Length:
37 inches
Blade Length:
31 inches
Blade Width:
1.75 inches
Hilt Width:
2.7 inches
Weight:
2.7 lbs.
Material of
Construction:
EN45 High Carbon Steel
Includes leather-wrapped wooden sheath
Average rating
Product reviews
Royal Knight Arming Sword
Displaying reviews 1 - 3
Pages: