Free Shipping on Orders more than $150! (Continental U.S. Only)
Expedited Shipping Available! Call or E-mail us at service@strongblade.com
Deathbringer: Mercenary Sword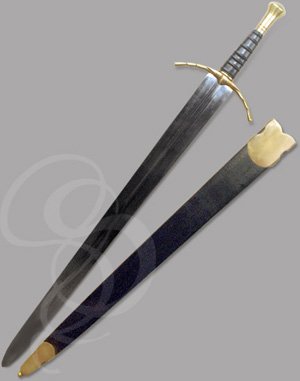 Hand-and-a-Half Sword of the Death Dealers
Model No.
Price
Availability*
Description
Accessories
---
* Stock items ship from Strongblade in 1-3 days. Please allow an additonal day for engraving or sharpening.
Product Description
This sword is now available Standard or Fully Tempered!

They are the dark shapes in the back of the tavern. The hooded warriors accepting money in the rain-drenched alleys. Their skills rival those of the greatest knights, but their oaths are not made to the church; their masters shower them with gold, not blessings.

Some of the greatest characters in both history and fiction have been mercenaries. From Inigo Montoya of The Princess Bride fame, to Demaratus -- mercenary and former king of Sparta -- mercenaries are rich, colorful characters. They are hired swords who wander the world, earning their keep with what they know best: combat. This sword is a tip of the hat to all of them, real or otherwise.

Although not a true hand and a half sword, it does have a grip wide enough for some hand-and-a-half work. The so-called "scent-stopper" pommel (a pommel in the shape of a perfume bottle top (although, lord knows who the heck came up with that term. Who in their right minds would use a perfume bottle to describe any part of a sword?)) is especially long, creating extra room and vaulting this sword into the "hybrid" hand and a half sword classification.

There are several prominent features on this sword. The most prominent one (particularly to those on the receiving end of a good slash) is the extremely wide blade. This width gives the sword a rugged, frightening look that would have added to the a mercenary's prestige. The blade is made from high-carbon steel and features a pleasantly wide fuller running about halfway down the blade.

The next most impressive features are the scalloped brass crossguards that arch gracefully toward the blade. The scallops make the crossguards look rather like talons, or skeletal fingers. A flawless cusp at the center of the guard adds a touch of elegance that perfectly balances the scalloped extensions.

The grip is ridged smartly and wrapped with black leather; It feels secure and very comfortable in the hand, and looks menacing when the blade is sheathed.

The scabbard for this sword is custom fitted, with large notched accent plates of brass on the throat and tip. It's a wonderful home for the sword and makes the sword look great whether it's in the hand or in the sheath.

Buy this sword and you won't be disappointed. It's one of the more unique hand-made swords that we have on the site and it's worth every penny.
Product Details
Blade length: 31" (79cm)
Blade width at cross: 2-3/8" (60mm)
Blade width near point: 1-1/2" (38mm)
Cross width: 8" (20.3cm)
Handle length: 7-1/4" (11cm)
Pommel Length: 3" (76mm)
Overall sword length: 38-1/4" (971.5cm)
CoG (Center of Gravity): 6-1/4" (16cm) from cross
CoP (Center of Percussion) 11" (28cm) from point
Weight (roughly) 3 lbs. (1.36kg)
Average rating
Product reviews
Deathbringer: Mercenary Sword
Displaying reviews 1 - 7
Pages: