Free Shipping on Orders more than $200! (Continental U.S. Only)
Expedited Shipping Available! Call or E-mail us at service@strongblade.com
Sharpened Flemish Pappenheimer Rapier with scabbard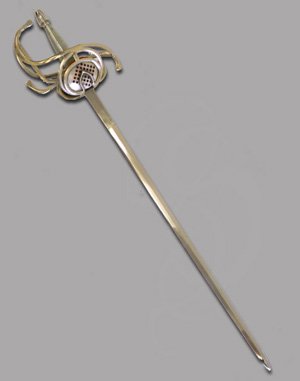 Hand-Crafted
EN45 High-Carbon Spring Steel Blade
Tempered Blade with Full Tang
Includes Leather Scabbard
32 Inch Blade Length and 41 Inch Overall Length
Reduced Price Because of Hilt Imperfections

Models on Sale
Model No.
Price
Availability*
Description
Accessories
---
* Stock items ship from Strongblade in 1-3 days. Please allow an additonal day for engraving or sharpening.
Product Description
Life does not always turn out as you expected and the same applies to swords. This batch of rapiers, although manufactured with best intentions, does not meet our high quality standards. The sword is structurally sound and the blade is in beautiful condition but the guard has several cosmetic imperfections and the grip may also have small traces of rust. Because of these imperfections we have marked these swords down over 30% from their original low price. If you are looking for perfection in a rapier we would not recommend this model but if you're looking for a great deal on a sword this Flemish rapier is a great choice

It features a large basket with intricate design. The grip consists of alternating layers of steel. The blade is 32 inches long and made of tempered high carbon steel. The sword is available with both unsharpened and sharpened blades. Included is a leather scabbard.


Product Details
Overall Length:
41 inches
Blade Length:
32 inches
Blade Width:
1 inches
Hilt Width:
0 inches
Weight:
3 lbs.
Material of
Construction:
EN45 High Carbon Steel
Includes leather-wrapped wooden sheath
Average rating
Product reviews
Displaying reviews 1 - 1
Pages: